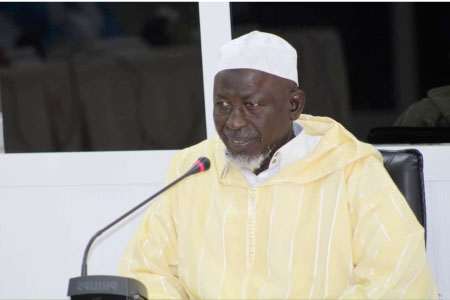 Oustass Ismaila Manjang Tuesday testified before the TRRC in connection with his arrest and detention on 17 June, 2011 by the defunct National Intelligence Agency (NIA).

Born in Gunjur, Manjang, who did not attend any formal school (Madarassa) was an Islamic teacher at an Arabic school in Gunjur.
According to him, on 17 June, 2011, he invited one Omar Faba Gitteh to a graduation ceremony of his grade nine students. The guest spoke on the topic: 'Tawhid' meaning faith in only Allah.
He added that Gitteh told the students that some were worshipping places like Bakau Katchilly, Taba Konkonrong and Gunjur Kenikenih Jamano, citing this was not in line with the teachings of Islam and advised his students to be careful with these places because neither Allah nor his Prophet Muhammad (SAW) advised Muslims to be going there for worship. He said his reason for doing that was to instill Tawhid in their minds.
Mr. Manjang explained that he did not observe any anger in the audience that was present at the graduation.
"Islamic Solidarity Association Executive usually have meetings to discuss the way forward of the Arabic education in The Gambia and Guinea Bissau and after one of their meetings in 2011, I went back to Gunjur."
At the time of his arrest, he said his wife told him that someone was asking for him and when he came out, he met one police officer identified as Sowe who told him that he was needed at the police station.
He testified that he was arrested and taken away by two PIU Officers with their batons. The officers sandwiched him.
Prior to this day, he said he used to see Mr. Sowe because his (Manjang) compound was not far from the police station and there was a cordial relationship between them. He added that they attended naming ceremonies together and even shared his 'Tobaski' meat.
Mr. Manjang testified that he was taken to the NIA headquarters in Banjul.
"Did they tell you were under arrest? Counsel Singhatey quizzed. "No" responded Manjang.
He said at the NIA, he was asked whether he was the one that insulted the people of Gunjur, but replied in the negative and debunked the allegations as "false."
He said the person who was interrogating him told him that he was not speaking the truth and all of a sudden, he took the baton from the PIU Officer and beat him.
Oustass Manjang continued that the man further forced him to remove all his clothes but he refused to remove his trouser and told him that unless he died.
He said the NIA operative then ordered his boys to take him; adding that he did not see the PIU officers after they handed him over to the NIA. He testified that the NIA operative eventually took him to another place.
"The place was so dusty that I suggested no one was ever put in that cell. I sent a young man to get me a carton which he did. Those cartons were my praying mat, and bedding. What I realised was that people who hated me reported me because there was no enmity or argument between me and anybody."
Mr. Manjang disclosed that at this time the APRC was very powerful in Gunjur, despite that, he didn't participate in the functions of the APRC neither did he take their money, sugar or rice.
"I have never participated or spoken at any political platform but they knew that I am a supporter of the UDP. I was targeted because I was perceived to be an opposition," said Manjang.
"I am an elder in Gunjur and would not stand and insult the elders of Gunjur," he added.
The old man testified that his head was bald and had nothing to drive the mosquitoes but he then appealed to another officer to get him 'Moon Tiger' mosquito coil which he lit inside the cell and this made the situation better for him.
"After the 8 p.m. prayer, I lay down but could not sleep. The following day, my whole body was swollen as a result of mosquito bite."
Mr. Manjang revealed that he was later told by his son Ahmad Manjang that the man that escorted him to the NIA was Numo Kujabi, an operative working at the Office of the President.
He added that during the course of the interrogation, he was asked to provide a surety for bail.
"I was not released on the day I was granted bail but was put in light detention were I had a fan, and a mattress."
He said he was not released because the officers told him that they were investigating the information he gave them and they did not have orders to release him yet.
The witness alleged that those that reported him went to the president's office and not the NIA.
"Every Gambian knows what happened under the Jammeh regime, including animals. I was reporting on bail and during that process, the NIA told me that they did not find anything which was against the law and that the NIA was ordered to transfer the case to the Drug Squad headed by Pa Habib Mbaye and Friday Barry."
He said the drug squad allowed him to go home but they later went to his home and conducted a search and further proceeded to Modou Lamin Touray, Supreme Islamic Council's president who wrote a letter of recommendation clarifying that he did not insult the government.
On his medical conditions, he explained that he was examined but there was no problem, except that his shoulder pained him from time to time, especially in the early hours of the morning.
He appealed to religious leaders to adhere to the dictates of Islam and always remember the day of judgment.
Read Other Articles In Article (Archive)