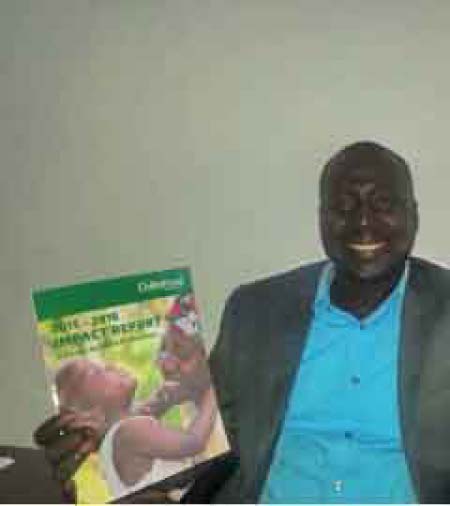 ChildFund has positively touched the lives of 19.7 million people globally through its various programmes and interventions.

Nfamara Darboe, sponsor relations and communications manager at ChildFund The Gambia, said interventions of the organisation has reached 8.9 million adults and also impacted on 10.8 million children, thus making difference in the lives of 19.7 million people globally.
"All this is made possible through support from almost 400,000 supporters through individual child sponsorship and the 181 grants," Darboe said at the launching of ChildFund Impact Report 2015-2016 at the organisation's headquarters in Kanifing.
ChildFund is an international child centered development organisation that works directly in 28 countries through 356 local partners.
ChildFund programmes are designed to strengthen the child's protective environment and mobilise the child protection system at all levels for the child's wellbeing and protection.
Mr Darboe said the organisation continues to impact lives and livelihoods thanks to the continued support of its partners.
ChildFund recently launched a global strategy, 2016 to 2020, called Destination 2020.
Darboe said through the strategy, ChildFund commits itself to continue and deepen the well-being and protection programme for children, deliver transformative giving experience to the donors and also cultivate a workplace culture of innovation for value and impact.
He said the organisation would continue on its core programme and integrate child protection concepts and methods more deeply into programmes, partnerships and operations.
The communications manager said ChildFund would continue to bring consistent understanding and application in development and humanitarian work and enable its staff to consistently apply child concepts and methods.
It would also align all its development and humanitarian programmes, projects and partnerships to accelerate outcomes for the well-being and protection of deprived, excluded and vulnerable children.
Mr Darboe said ChildFund would further continue to deepen its capacity to catalyse children, families, communities and governments to systematically prevent and respond against all forms of harm against children.
"It is clear that ChildFund cannot do all these without your support and partnership," he said. "We will continue to engage with you all throughout the period of the strategy."
He noted that the impact of ChildFund's work is not only one person's work.
"It was really due to the partnership and collaboration in all these years and ChildFund would like to thank you all for being good partners in helping the deprived, excluded and vulnerable children in The Gambia and the world at large," Mr Darboe said.
He affirmed that ChildFund will continue to engage government ministries and departments, UN bodies, likeminded NGOs, CBOs, the media, private sector, and the children to advance the right of every child through a range of specialised interventions focused on prevention and protection of children from abuse, neglect, exploitation and violence.
Read Other Articles In Article (Archive)