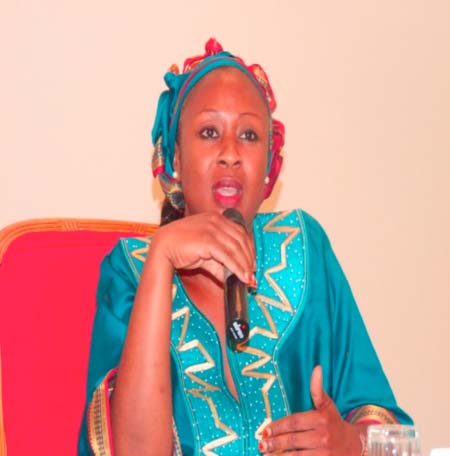 Members of the National Assembly yesterday ratified and adopted the Constitutive Act of the African Union relating to the Pan African Parliament (PAP).
Tabling the Constitutive Act before deputies, the Attorney General and Minister of Justice, Mama Fatima Singhateh, said the Pan African Parliament should be given the power to attain its mandate, under a new protocol called the Malabo Protocol adopted by heads of state and government in June 2014.
She added that the new protocol and the mandate of the Pan African Parliament has been extended to its new legislativepower to propose, legislate and draft model laws for consideration and adoption by legislators from member states.
The Justice Minister further told lawmakers that for the protocol to come into effect 28 ratifications are needed, and so far only three countries have ratified this protocol.
"It was interesting to know that four members from this house are among the members of Pan African Parliament and attend its meetings annually," she said, adding that as a country they had a serious take in seeing that "this body has the tools to carry out its mandate".
She said further: "We want to be among the first countries in Africa to ratify this protocol, and give voice to the African people and facilitate the effective implementation of the protocol and objectives of the African Union, among other things."
The motion was seconded by the Majority Leader and National Assembly Member for Serrekunda East, Fabakary Tombong Jatta, who commended the discourse on the ratification of AU Constitutive Act on the PAP.
He said the heads of state and government adopted the sixth declaration of 19 September 1990 established in the African Union.
It was only at the Assembly of Head of States and Government Treaty at the 36th ordinary session in Lome, Togo, held from 10 to 12 July 2000, that the Constitutive Act of the African Union was adopted.
This marked the beginning of moving towards achieving an integrated and strong Africa, he added.
Hon. Jatta further told deputies that article 5 and 17 of the Constitutive Act of the African Union provides for the Pan African Parliament under the African Union.
The Constitutive Act deals with the organs of the African Union and the organs of the Union shall be the Assembly of the Union and the Executive Council of the Pan African Parliament, among others.
Article 17 of the same Act states that in order to ensure the full participation of the African peoples in development and economic integration of the continent, the Pan African Parliament shall be established, Jatta added.
Read Other Articles In Article (Archive)