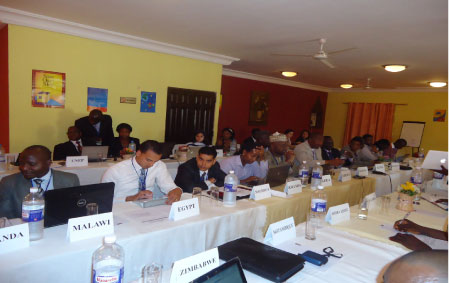 The 19th main meeting of regional ozone network for English-speaking Africa Ozone Depleting Substance is underway in Banjul, organised by the UNEP under the auspices of National Environment Agency, on behalf of the Government of The Gambia.
According to officials, the four-day convergence which began on Monday brought together experts and stakeholders from 27 countries, meant to facilitate sharing of experiences and reviews of the progress made in Africa in the implementation of the Montreal Protocol projects and programmes, geared towards the protection and preservation of the ozone layer.
Fatou Ndey-Gaye, the Minister for Environment, Parks and Wildlife, said the national ozone unit within the National Environment Agency was established in May 1997, charged with the implementation of the Montreal Protocol on the protection and preservation of the ozone layer, under the leadership of President Jammeh.
She said since then the unit was able to train over two hundred and forty refrigeration technicians on best refrigeration practices, recovery and retrofitting of refrigerants.
 "To ensure Gambia is CFC-free, the unit has also trained over three hundred customs and other security officers on the identification of banned refrigerants, smuggling techniques, among others," she emphasised.
 "NEA in June 2012 also launched a new project, called the hydro chloro fluoro carbon phase out management plan, signed between the Government of The Gambia and the multilateral fund secretariat, through the United Nations Environment Programme (UNEP), to phase out of hydro Chloro Fluoro Carbons (HCFCs), by 2030," he stated.
For his part, Jim Curlin Network and Policy Manager, UNEP DTIE Ozone Action said, "We are now 5 months into the HCFC freeze period, which marks the beginning of the end of HCFCs. The clock is ticking on the phase out of these chemicals and all of your countries have to reach the 10% reduction target in less than two years."
"This process poses certain challenges related to technology choices, market penetration, financing, and technician training and consumer acceptability for the meeting to address some of the issues," he added.
Mr. Gerald Mutisya, representative from the ozone secretariat, revealed that the Montreal Protocol stands out as the most successful international environmental treaty, because of the ground-breaking principles it espouses. These, he added, include the precautionary principle in which parties took action even before the full facts of ozone-depletion had been established.
Ag. Executive Director of the National Environment Agency, Mrs. Ndey Sireng Bakurin, who moderated the session, said The Gambia as a country has shown 'a real commitment' to the protection of the environment as a key part of sustainable development.
Read Other Articles In Article (Archive)