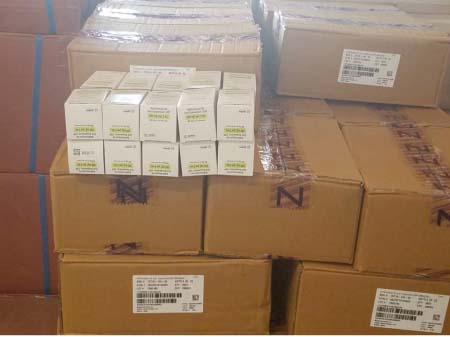 ChildFund- The Gambia has extended magnanimity to the Ministry of Health and Social Welfare through its Gifts-In-Kind program, with the donation of a 20-foot container full of MAP international medical supplies and pharmaceuticals.

The international child funding agency has also provided 500 laboratory coats and masks to the said Ministry. The medical supplies and pharmaceuticals are meant to complement the agency's programs in a bid to improve the lives of the deprived, excluded and vulnerable children in The Gambia.
Country director, Musu Kuta Komma said the medical items seek to complement the efforts of the government in the crucial sectors of health and education.
She reminded that COVID-19 as also referred to, is taking its toll on countries around the world, which prompted the need for more masks especially during this critical period.
She said it is their conviction that for children to grow and achieve their full potentials, they must even before their birth, have access to much-needed medical supplies and high-quality services.
ChildFund-The Gambia, she went on, would continue to support health care delivery in the Gambia.
'Our intervention in the health sector is that the identification of support needs is never done in isolation.'
Musa Mbye, member of the ChildFund advisory board, thanked ChildFund-The Gambia for the gesture, which he said, has came to the Ministry of health's rescue and the government, assuring that the medical items and the masks would go a long way in strengthening the health system in The Gambia.
Director of pharmaceutical services, Babanding Sabally said one of the critical elements of health dispensation is the availability of supplies. The quality of health delivery, he observed, is usually measured based on the availability of supplies.
He thus assured that the supply would be put to good use so as to ensure that it reaches the target population and those who need it most benefit from it.
Read Other Articles In Article (Archive)