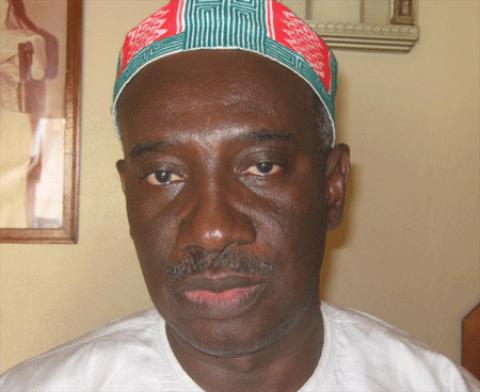 Chief Justice Hassan B. Jallow has called on the newly-appointed Notary Publics, Justices of Peace and Commissioners for Oaths to live up to the oaths they took and execute their duties responsibly.

Chief Justice Jallow made this call yesterday at the judiciary complex in Banjul while presiding over the swearing-in of 31 judicial officials.
He told the newly sworn in officials that they should discharge their responsibilities fully and uprightly.
He said the officials were selected from many to take up the responsibility.
The Chief Justice assured them of his office readiness to organise an induction programme in respect of the offices of Notary Public, Justices of Peace and Commissioners for Oaths.
In his vote of thanks, Kebba S. Fadera, one of the sworn in officials, urged his colleagues to adhere to the oaths they took, saying any of them that willfully certifies or propounds any false statement or document commits an offence and is liable on conviction to imprisonment.
The swearing-in ceremony was attended by the Judicial Secretary, Landing M. Sanneh and coordinated by the Master and Registrar of the High Court, Buba Jawo, who informed the officials not to authenticate any document when all the parties are not present.
The Notary Publics sworn in were Yassin Senghore, John B. Bright, Kebba S. Fadera, Musa B.I. Susso, Habibou Sanyang, Mahtarr E. Njai, Lamin Darboe, Omar Cham and Alhaji Amadou Touray.
The Justices of Peace are Princess S. Drammeh, Lamin M.B. Jaiteh, Alhagie Massaba Senghore, Cherno Nyassi, Jawo S.P. Jallow, Momodou Mulai Bah and Sering Mass Ndow.
The Commissioners for Oaths are Modou Musa Ceesay, Anna Maclean, Naffisatou Deen, Sabell Jack, Ebrima Solo Jallow, Musa Krubally, Ebou Sowe, Pateh Sowe, Momodou Lamin Manneh, Abdou Aziz Tunkara, Momodou L. Sanneh, Momodou L. Badgie and Sang Mendy.
A notary public is a third-party who does not only witness the signature of a document but also to ensure the fact that all parties signed, did so before him and willingly.
A notary public is a public officer appointed by the Chief Justice and constituted by the law to serve the public in non-contentious matters usually concerned with estates, deeds, powers-of-attorney, and foreign and international business.
A notary's main functions are to administer oaths and affirmations, take affidavits and statutory declarations, witness and authenticate the execution of certain classes of documents, take acknowledgements of deeds and other conveyances, protest notes and bills of exchange, provide notice of foreign drafts. Notaries charged fees for their services.
Justice of the Peace: In principle is a volunteer of good character and standing in the community who has been appointed by the Chief Justice through the Master of the Supreme Court.
Their role is mainly focused on witnessing affidavits and statutory declarations, certifying true copies of original documents and certifying a person's identity.
Commissioner for oaths and affidavits are persons appointed pursuant to the laws and they are entitled to administer oaths and affidavits.
Read Other Articles In Article (Archive)