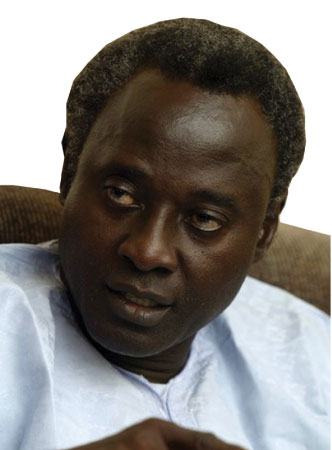 Halifa Sallah, leader of the Peoples' Democratic Organisation for Independence and Socialism (PDOIS), has said that The Gambia is far from achieving targets in ensuring unity and progress.

Speaking at a press briefing at his office in Churchill's Town on Wednesday, he said even though the leadership of the country has changed, there are lots more to be decided.
Mr Sallah, who is elected National Assembly member for Serrekunda Central, said people must change for the aspired changes to be realised.
He recollected that the agenda of forming the coalition government was to effect change of government and elect parliament that would review existing laws and make laws, which the government would implement presidential term limits, among others.
"We agreed in the beginning to elect a president that will not overstay, and after serving three years such person will not contest the next election. This is what Barrow agreed and was elected at the 1st December 2017 presidential elections," Sallah said.
According to the new parliamentarian, the constitution requires the president to conduct elections three months before the end of his term in office.
He continued: "That was why Yahya Jammeh stayed three months to prepare to leave after he was defeated in election. He first accepted defeat, but later rejected. This led to intervention of the international community to ensure that Yahya Jammeh step down, and Barrow took over from him on 19 January 2017.
"We all agreed that President Adama Barrow be elected as an independent candidate to lead the coalition and to elect independent candidates as National Assembly members under the coalition government. But some parties insist that they wanted to sustain their parties that was why we contested under our individual parties, instead of contesting as independent candidates under the coalition, as we agreed upon earlier."
"Our priority is building new foundation for The Gambia to ensure good governance, respect for human rights. However, we have not yet escape crisis. We have not yet escape the past dilemmas considering the way things are moving.
"The instruments for parliament are Standing Orders that should be built to ensure transparency and accountability. There need to be a legal person to help build the legal instruments. We need to educate members of parliament on the laws to enable them sensitise the people. There is need to build trust among members to avoid partisan interest to supersedes national interests."
"The majority in parliament is the UDP and they using partisan politics. It wouldn't make difference with the APRC government if they decide to be praise-singers only. We need to move from self-perpetuated government to building Gambia for Gambians. What we want is all Gambians to be winners.
"Our hope is that the new beginning will lead to us to the Third Republic. However what we had was partisan campaigns as the president went for campaign and some parties were using his image during the campaigns.
"The nation is still a divided nation."
Hon. Sallah, who was the coordinator of the coalition, explained that even though UDP dominates in parliament that does not mean they carry weight more than the rest of the parties in parliament as they do not form 2/3rd majority which is needed for impeachment of president.
According to Sallah, considering the percentages at constituency levels, UDP might win the seats, but that does not mean they dominate results of all parties in a particular constituency.
"It is said that Gambia has decided, but Gambia has not decided because there are still partisan politics. We are demanding for equality, unity and work for a common good of the nation. As long as that is not achieved we have not yet decided," he said.
"Yesterday we were called in parliament and there was no Speaker yet, the Chief Justice stepped in, but he had to operate based on laws; parliament debate on the rules and procedures.
He recommended that parliament need to hire a legal person that will draft legislative policy based on which the parliament operates.
Read Other Articles In Article (Archive)