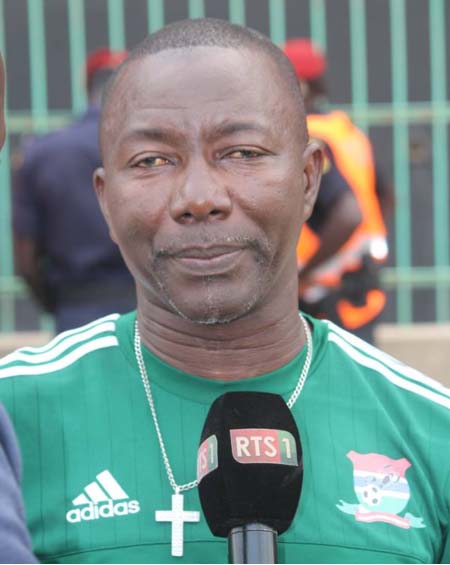 The final draft of the technical report on the Gambia against Senegal CHAN qualifiers sent to the Gambia Football Federation has highlighted among other things the need for adjustment in Gambia's football calendar if the country wants to match international standards.
This report written by Head Coach CHAN/U-23, Mr Peter Bonu Johnson and assisted by Mr Mattar Alieu M'Boge Assistant Coach CHAN/Head Coach U-17 provided a permanent record of the matches and technical programme that took place from May to July 2015.
Refusing the coach and his players the opportunity to start training early caused them their failure against Senegal and as a result leading to them paying the price of been eliminated.
The report which contains all facts on the preparation of the team from a technical, tactical, physical and psychological perspective added that from the onset the Technical Team was much aware of the desire and eagerness of "our nation to defeat Senegal".
The document also states the facts and realities and provides information that can be used for future reference by administrators, coaches, technicians, staff and other officials who are active in the development of Gambian football and may be taking a leading role in shaping the future of the sport within the country and beyond.
For development work to bear fruit there must be sufficient time for the process and it must address both the grassroots and the top tier of the game, he reported, saying it is for this very reason that CAF created the CHAN competition every two years thereby giving the home-based players the opportunity to measure themselves on the pitch internationally and qualify their countries, also giving them the opportunity to be scouted by FIFA Football agents.
Bonu said he was excited about his appointment and was of the view that this time round the GFF has got it right to build a team for the future with a solid foundation for the country's CHAN National team to be given adequate time to prepare a competitive team since we had not played at International level for a considerable long time. It was for this reason that he committed himself and that of my team to give it their best.
However he hopes in the future that no coach and his technical team will be expected to give great results and perform miracles with so short a time for preparation."Playing in international competitions is the only way to improve your game," according to the report, which says that"it gives you the opportunity to have a better knowledge of the selected players and be able to instill discipline in them and thus have a good team ready to deliver anytime it is called upon".
According to the report, request to start training on the 14th April, 2015 was made but was not granted by the Technical and Development Committee which was mandated to approve their selection and decide on when they were to start.
In addition, immediately the GFF Second Rounds Fixtures were circulated, Bonu said he appealed to the Secretary General of GFF for the cancellation of the mid-week matches as that will affect their selected National team players but again nothing was done to avert the situation.
Privileged to meet the Technical and Development Committee (T.D.C.) on 28 April 2015 with his coaching staff, they again raised their concern of cancelling the mid-week matches, which was well received with promises to change it after consulting the GFF Organizing Committee but that same day barely three hours after the meeting they were informed that mid-week matches could not be cancelled.
Not giving up hope, on 29 April 2015, they again wrote another appeal letter, in which they once again appealed that it is better to prolong the National league in the interest of the country's National teams than fast-track it which neither help the teams nor our selected players, as fatigue would take its toll on them which might lead to injuries.
Though the preparation phase was short with signs of fatigue from the National league, the players gave it all they have and shrugged this off like true sportsmen.
Late commencement of training of home-based players as a team due to the mid-week matches took its toll on the players. We were directed by the Technical and Development Committee of GFF to train on Mondays and Tuesdays with effect from 4 May 2015.
"It was only from 1 to 4 June 2015 when we started training as a team, we realized that the players were fatigue because most clubs were either fighting for the National League titles or avoiding relegation," he said.
"Unfortunately they trained two days a week (i.e. Mondays and Tuesdays) for four good weeks without having all the players on the same day due to mid-week matches and were privileged to have only one test game which helped them select the 24 players for the training camp in Morocco.
"Team selection should always be based on sound and defendable criteria. To argue that a consistent performing player for his local club may not perform at the International Stage and to select a player who is not performing for his local club is indeed a bad criterion and should be discouraged."
By now, the report indicated, the CHAN U23 should be made up of players that have previously competed at U17, U20 level and have been exposed to the demands of international football rather than those who have not been involved with a national team at any level.
According to the report, the organizing committee should work harder to give priority to co-ordinate the training schedule for all national teams as requested by coaches, with the flexibility to schedule the fixtures in the interest of our National teams rather than a setting Mondays and Tuesdays of every week which are not good days as players are from weekend matches.
"If the range and complexities of the structures pertaining to our sport (football) and the degree of protection enjoyed by our Coaches and players are improved, we will start to realize that throughout all the sporting disciplines in the Gambia, our sport will continue to grow and generate great enthusiasm," the report noted.
"Much should be done to create conditions favourable to the training, and monitoring of our home-based players because the development of our teams through them should be in the eyes of each football enthusiast a matter of great and general interest."
It said further: "The lack of playing together for some time took its toll in the better understanding of the players during the first leg in Dakar and though the team spirit was present, their fitness went down and hampered their style and system of play in the attacking third to score more goals, as support on time was late and recovery slow."
Bonu said he was taken aback by the performance of the players, as there was much at stake in this match and he was very happy to see them contest the match keenly with discipline, loyalty and sportsmanship.
Though the spirit of FAIR PLAY prevailed throughout the match nearly everyone present left sad and disappointed, he said, adding that on behalf of his technical team would like to say sorry to all their well-wishers, especially their fans, for not winning the game in Banjul due to the internal problems mentioned in this report.
In concluding, the report with a final prayer to the Executive Committee of The Gambia Football Federation, stated:"The game of football does not have quick fix solutions, neither does it have instant fixing.
It is common knowledge that a football team is built over a period of time, and to be given 4 (four) months to build a team (in our case nine days training as a team) to International standard given the state of our National League, with an empowered Technical and Development Committee who decides when you train or not to train, an organizing Committee not willing to synchronize the National league with the International fixture calendar but fast track it to finish early together with all the challenges mention in this report and then expected to perform miracles is just not possible.
It would be a good idea if the GFF would devise a method of managing expectations, the report noted, saying sports authorities and indeed football lovers should be guided towards realistic expectations.
It added:"We wish therefore to pray that the Federation in the future not to put any coach and his technical team in such a situation like we have experienced because it is important that once a competition is schedule adequate preparations should begin."
Bonu and crew thanked the Ministry of Youth & Sports & GFF Executive in forming a Task Force Committee to coordinate all the team logistics during their preparation, saying in the face of difficulties, which were not only limited to those mentioned above, "the GFF did what they could".
He went on to thank the GFA Secretariat, other committees/people behind the scene; his Technical team (i. e. Joseph K. Sambou, Matarr Alieu Mboge, Abdoulie B. Njie, Kalifa Manneh, Pa Matarr Ndow, Amadou L. S. Jaiteh, Pa Ousman Manneh, Omar Ceesay and Alhagie Marong) for their support, encouragement, dedication and tireless efforts in ensuring that everything was under control.
"Another emotion is that of Gratitude to H. E. Sheikh Professor Alh. Dr Yahya A. J. J. Jammeh, who has recommended and supported me as the Head Coach of the Senior National team despite public calls for a Foreign Coach, his devotion to sport and his unflinching support to the development of football in this country may continue and serve as an abiding example to future generations," he also said. 
Read Other Articles In Article (Archive)