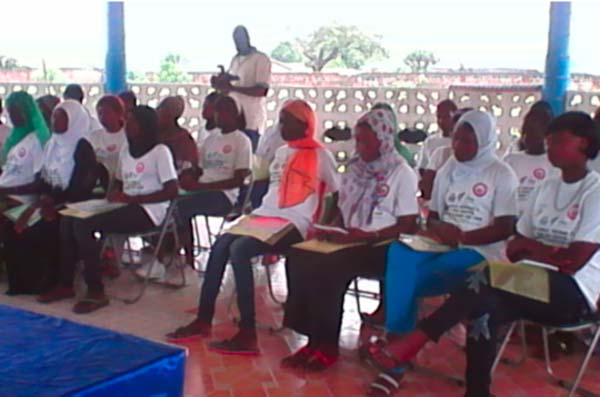 The Girls Agenda and For My Sister organization recently opened a 10 -day summer camp in Manduar village in the West Coast Region for 50 girls on Female Genital Mutilation.
The camp aims at empowering young girls with skills that would help them as they are growing up into adults, as well as educating them and making them aware of issues that are affecting them, and how they could stand up to those issues such as FGM, early marriage, forced marriage and other harmful practices.
Speaking at the opening ceremony, Oumie Sissoho, programme manager Girls Agenda, said that every girl including those present at the training course has a fundamental human right to be respected; not because they are a girl, but because they are human beings.
At the Girls Agenda, they believe that they could reach at more girls as possible, because they know that FGM, child marriage, sexual offences, and other related issues affect the progress and growth of young girls, which are serious violations of their fundamental human rights.
This affects their bodily integrity and poses a serious threat to their reproductive integrity, as well as their security as persons.
Ms Sissoho further said that many women who are victims of such practices have life-long health issues, with many others living life with psychological trauma.
This means that teenage pregnancy, sexual violence, FGM, forced or child marriage are issues that affect their progress as girls.
Therefore, she added, young women-led initiatives such as the Girls Agenda could not sit but act, because they believe that they owe young girls a responsibility to invest in them so that they could also progress.
"We understand that because of the unequalpower relationships boys/men and girls/women in our society, it is apparent that the problem of sexual offence, FGM, forcing a girl child to marry, can further undermined the realisation of their fullest potentials due to the consequences of such things."
When a girl is affected with teenage pregnancy, in many instances, the parents would send her out to marry.
"We have to arrange a relationship for her because she is not ready to be educated", she said they would say.
She added that the consequences attach to teenage pregnancy, affects the girl-child more than the boy-child.
They also understand that FGM, other than the instant pain that they all feel when mutilated, they live with lifelong health issues relating to their reproductive system, psychological health and social consequences, she said.
It is important to raise awareness about these issues, brainstorm on the issues and how they affect their progress as young people, she further stated.
Ms Sissoho added that if they all made a promise that they would not cut their female children, then FGM and other harmful traditional practices affecting girls and women in The Gambia would be a thing of the past.
Fallou Sowe from the Network against Gender-Based Violence, said this was another camp to empower, educate and build skills, especially life skills of young girls so that they become parents tomorrow; who would be more protective of their children, who would also be able to protect themselves from violence and discrimination, especially those created based on gender.
He said the NGBV since its inception to date shall be and would continue to work with organizations such as the Girls Agenda to ensure that their young girls, children and mothers are protected from all forms of violence.
Maria Saine from Safe Hands for Girls, said in Safe Hands for Girls they believe that youths form a very important part of what they do, because they believe that youths at their age have a voice that could grow and have a big expression and impression in the communities that they came from.
They also believe in empowering youths so that they could be heard, and this could be done if youths believe in themselves, she added.
She said they could not sit at home and say they do not have a voice that could be heard, as such, they would not talk about what is affecting them.
If they believe that FGM is a harmful practice, then they needed to come out to their communities, be a survivor and tell them about their ordeals.
Jainabou Baldeh, founding President of "For My Sister" organization, said that the organization is a US-based organization to help empower women in their various communities.
She said they partnered with the Girls Agenda for the summer camp to look at issues of FGM, early and forced marriages among other issues.
They are here to support any organization that engages in the communities and in empowering young women, she said. 
Read Other Articles In Article (Archive)