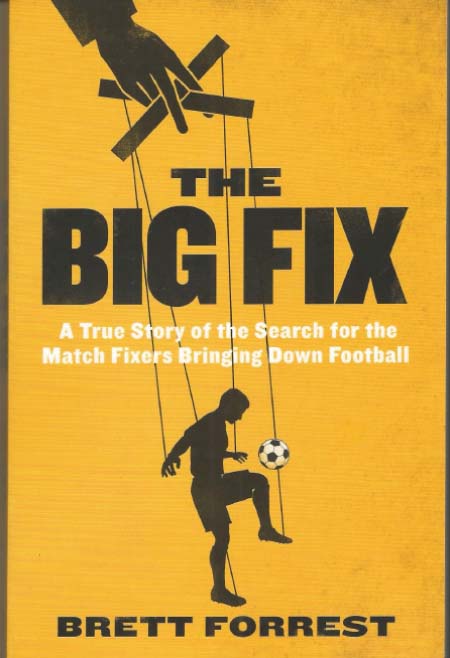 Known as the "beautiful game," soccer is the world's most popular sport, crossing borders and language barriers to entertain billions. But underneath it all—the raucous fans in the stadiums; the beloved players; and FIFA, the international governing body with a membership of 209 national associations—is a scandal that threatens to make soccer the ugliest sport in the world. An underworld of international gambling rings, corrupt players and officials, and shadowy figures preys on the far-flung edges of the game, making match-fixing in soccer one of organized crime's new, profitable businesses.
Now, for the first time, journalist Brett Forrest takes us inside the $700 billion international soccer betting market. In 2013 Europol revealed that more than 700 international matches have been fixed since 2008. Forrest pulls back the curtain, exposing a web of nefarious dealings across the world, even on U.S. soil, with opportunistic fixers bribing players, influencing officials, and staging fake matchups, while Asian criminal syndicates pull the strings. No match is safe—not even the World Cup tournament—especially while local law enforcement officials lack the resources and the will to investigate.
But one man has taken on this criminal enterprise: Chris Eaton, a hardheaded Australian, longtime Interpol director, and the former head of security for FIFA. Forrest follows Eaton's journey from local beat cop to FIFA's security chief for the 2010 World Cup in South Africa. It was at this competition that Eaton first grasped the extent of match-fixing and the threat it posed to the game. From that point on, Eaton made it his mission to track down the elusive perpetrators: fixers who shed identities, crisscross borders, and target players and clubs on behalf of international criminal syndicates.
Filled with headline-making revelations, The Big Fix is a must-read for soccer fans and true crime aficionados. The story brings us inside Chris Eaton's hunt for the world's biggest fixers and their backers—from the roots of fixing in Singapore and Kuala Lumpur, to FIFA headquarters in Zurich and World Cup preparation in South Africa and Qatar, to fixing's expansion into nearly every country in the world—and the fight to save the beautiful game.
Available at Timbooktoo tel 4494345.
Read Other Articles In Article (Archive)