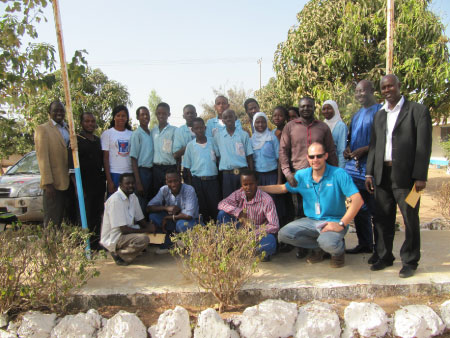 Being one of its set objectives to assist students in difficult situations in their education, the Brufut Marathon Committee has once again rendered support to school-going children at the area's upper basic school.
The committee on Tuesday presented about D15,000 to cover the tuition fees of 13 students for this academic year.
The students, who are currently attending Brufut Upper Basic School, are part of many who have benefited from BMRA's drive to support the community of Brufut.
Darko Patrovich, a staff of the World Food Programme, who ran the Brufut marathon as well as helped the committee to raise the funds donated, said his actions were based on an act of empathy to the neediest ones in the people of Brufut.
He was very happy to have taken part in the race and also raised funds for education.
"It is a very good cause and I will continue to help the BMRA in this course," he said.
"Working with the Brufut Marathon is a great experience and a lot has been achieved in mobilising resources and raising awareness to members of the community," he told journalists at Tuesday's presentation ceremony held at the school premises.
"There are many students out there who have not got this opportunity; so I am advising the beneficiary students to work hard and ensure good grades," he advised.
Muhammed Jabbie, principal of Brufut Upper Basic School, thanked the BMRA for being always at their doorstep to assist students from the school over the years.
 He said parent's inability to shoulder their children's school fees is another reason many cannot make it to high school.
Principal Jabbie, who pointed out the importance of education to the country, also commended them for their continuous support to the school as well as other local projects, such as in health, agriculture and other community developments.
The money donated was made possible through the philanthropic gestures of Simona Fabrizi of Italy, Maritxel Relano of Spain, Harriet Mandel of USA, and Angie Lee of South Korea.
Others included Italy's Salvatore Reito, Zach Bailey of USA, and Isatou Nasir Cham from The Gambia, Julia Wandke of Germany, Tamara Srdjanov, Awa and Victoria Ginja from The Gambia
 The presentation ceremony was witnessed by the executive committee members: Ba Jabbie, chairperson of the Brufut Marathon; Momodou Max Jallow, executive director; committee member Lamin Cham, and parents of the students that benefited from the gesture.
Read Other Articles In Article (Archive)