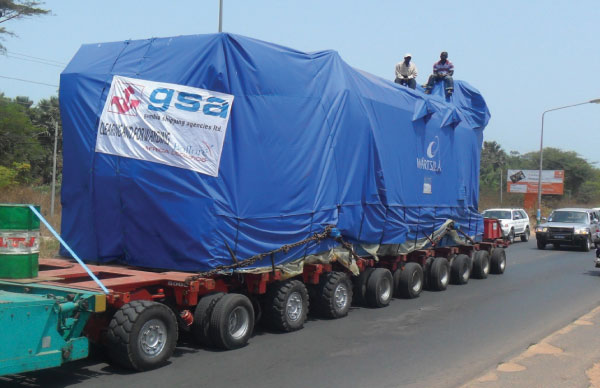 Brikama Power Supply Plant Project yesterday received a boost with the provision of a 9 megawatts generator acquired by the Gambia government through a loan from the Islamic Development Bank.
The generator, according to NAWEC officials, cost 15 Million US Dollars and forms the first phase of the project.
The Managing Director of NAWEC, Momodou B. Jallow, speaking to journalists at the Brikama project site, shortly after the arrival of the generator, said that the new 9MW generator is a moral booster from the entire management of NAWEC.
"It will help NAWEC to stabilise its power generation and power supply", he declared.
However, Jallow added, the capacity of NAWEC's generators is not enough; secondly the generators are also deteriorating because of age, he said.
However, this new 9MW "will definitely help NAWEC stabilise its operations" MD Jallow told journalists.
He thanked President Yahya Jammeh, who is also the Minister of Energy, and the government of the Gambia on behalf of NAWEC for making the company one of the best in the sub-region.
MD Jallow also thanked the ministry of Finance and Economic Affairs for their efforts in securing the additional new generator.
He assured the NAWEC customers that once this new generator is installed together with the rehabilitation of G6 at Kotu power station and the other 13MW that are also being installed at Brikama the quality of service to NAWEC customers will significantly improve.
He also took the opportunity to call on customers to help NAWEC and the government by paying their bills on time and the arrears so that they can take the company into higher heights.  
Baba Fatajo, the Power Generation Director at NAWEC, who doubled as the project coordinator for Brikama Power Supply Plant Project, said the electrical, civil and mechanical works are ongoing.
Fatajo said the arrival of the new 9 MW generator marked another milestone in the implementation of the project, and announced that the engine will soon be connected.
Read Other Articles In Article (Archive)