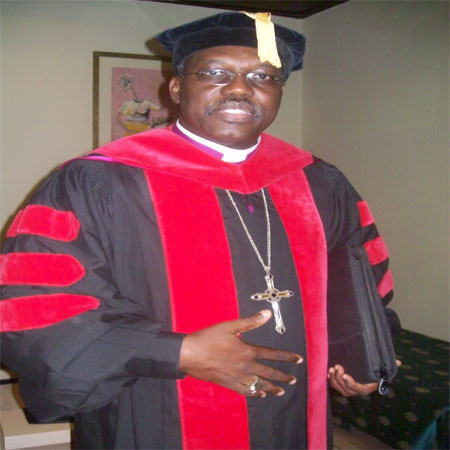 The Bishop of the Anglican Mission of The Gambia, Dr Solomon Tilewa Johnson, recently took over the leadership of the Gambia Christian Council at an induction service at the Cathedral of the Assumption in Banjul.
Bishop Johnson, Bishop of The Gambia, took over the leadership of the Gambia Christian Council from Bishop Robert Patrick Ellison CSSp, Bishop of Banjul.
In his induction speech, the outgoing chairman, Bishop Ellison CSSp., congratulated the incoming chairman who is to serve for two years. Bishop Ellison was grateful to the outgoing executive. "I thank all of you for your support shown to me as chairman of the Christian Council, and sharing with each other on Saturdays deepened our relationship. That was an achievement in itself. It is not easy to come for meetings due to different engagements at home or church," he said. Bishop Ellison said the Secretary General carries a lot of work with the treasurer. He welcomed Sister Sarian Gomez as the vice Chairperson of the Council.
"It is my privilege to hand over the baton to the incoming chairman whom we all know as Bishop Tilewa Johnson."
Bishop Johnson, the new chairman, said the Christian Council is an ecumenical body that seeks to do things together. "It was established on 21st March 1966 and have been seeking to unify churches. We work not only on religious practices but also for humanity including justice and peace issues, health education, capacity building and more," he said.
Bishop Johnson said the chairmanship rotates among Methodists, Anglicans and Catholics and we serve for only two years. "When President Jammeh took over in 1994, he summoned the heads of churches to give us the reason for his take over. He told us we were torch bearers of the truth and we shall not reduce our stance," he said.
Bishop Johnson took the mantle of Leadership from Bishop Ellison as he handed him the constitutions.
Read Other Articles In Article (Archive)