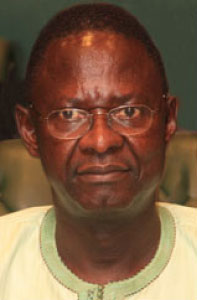 The Gambia Growth and Competitiveness Project under the Ministry of Trade, Industry, Regional Integration and Employment on Wednesday validated the draft Business Registration Bill 2013 that is expected to improve the climate for conducting economic activities.
The bill, when enacted into law, will repeal and replace the current Business Registration Act, and will effect a single window business registry system which will make business registration fast and cost effective.
Speaking on the occasion, the Minister of Trade Industry, Regional Integration and Employment, Kebba Touray, said the bill was aimed at supporting the business environment reform programme in the country.
He said the consultation process on the bill began in 2009, and has since then brought together a broad range of stakeholders, mostly from the private sector.
The objective of the business environment reform is to reduce the time and cost of business startup, and also address matters relating to the legal framework, and institutional restructuring, among others.
The minister noted that this was in line with the strategies of the government to improve the country's business environment, by adopting measures that would sustain macroeconomic stability and strengthen the relationship between the government and the private sector.
He said the government has resolved to commit itself to acting in three areas between 2012 and 2015, such as trade facilitation, investment climate, and quality control, all geared towards improving the business climate.
"Holding this workshop early in the New Year (2013) to validate a draft bill aimed at improving Gambia's business competitiveness, is a clear signal that we are beginning 2013 with the implementation of our New Year resolutions for accelerated speed towards the attainment of our goals and the accomplishment of our objectives, which are clearly spelt out in the national Vision 2020 blueprint," he stated.
The Minister of Justice, Lamin Jobarteh, pointed out that the bill will reduce the cost and delays of business registration and operations in the country.
With the new bill, business and company registrations in the country will be performed as a single registration service and a unified standard process of registration of all companies, partnerships and sole proprietorships would be designed, put in place, and implemented.
In this case, all the public agencies currently involved in the process of business registration would delegate the registration to one agency to handle all processes on their behalf through a single exercise.
Source: APA
Read Other Articles In Article (Archive)