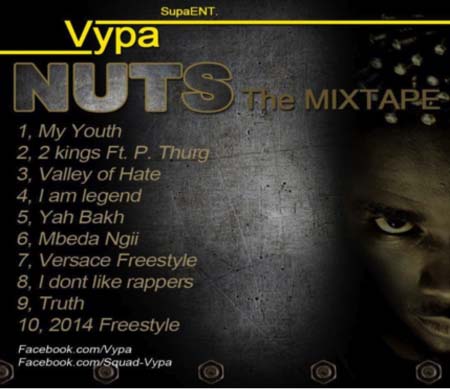 Vypa
Hit song in the "Nuts" are 'I don't like rappers', 'truth', 'valley of hate'and 'Kings' recorded at Negrophil Records mix and mastered by J-Live Music.
Vypa described the mix tape as controversial, and mention all the bad things in the Gambian music industry.
He said he feels sidelined in the industry, but that will not stop him to live because so many promoters organizing their show do not put him there.
"I am a legend because I produce the best tracks, which have a huge air play in outside radio; have classic videos, so they cannot push me out; I'm part of the industry," he asserts.
He said hip-hop is international music, but Mbalah or Afromanding only stops in Senegambia, and sometime he tries to blend local language for the local audience.
He thanked his management team, Squad Vypa, and his fan base for being behind him.
Read Other Articles In Article (Archive)