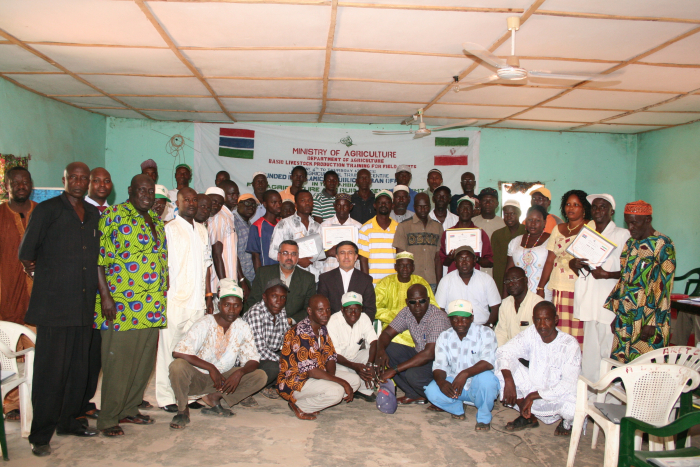 The Ministry of Agriculture, in partnership with the Iran office in The Gambia for Agriculture and Rural Development, (IGARD), recently held a three-day training programme on basic livestock production for agricultural field agents with crop background at the Jenoi Agricultural Training Centre in Lower River Region.
The training, which targeted agricultural field agents, was geared towards updating participants on latest knowledge about common diseases and disease control mechanisms, as agriculture is the backbone of the Gambian economy. It is among others geared towards refreshing the livestock based extension staff on the advanced approaches to animal health and production system.
Speaking at the opening ceremony, the Iranian Ambassador to The Gambia, Mr. Zaeid Zare said that food production in agriculture is important for both Iran and The Gambia, adding that President Jammeh's clarion call for the back-to-the-land, is pertinent in ensuring the attainment of food self-sufficiency.
The Ambassador stated that both countries do have exchange programmes in the areas of fisheries and agriculture, noting that the political relationship that exists between the Islamic Republic of Iran and The Gambia is growing from strength to strength. He buttressed that The Gambia's good investment capacity has motivated some Iranian businessmen to invest in the country.
"The Gambia has good investment capacity which motivates some of the Iranian investors to invest their capital here in the fields of Agriculture and technology," he added.
According to the Iranian ambassador, foodstuff and agricultural production is extremely important for both Iran and The Gambia.
"In Iran, we have sufficient fertile land plus climate variety, skilful manpower and efficient technology, but unfortunately we suffer from shortage of irrigating water and annual rainfall," he said, adding that this factor is vital for agricultural productivity even in the current year.
Ambassador Zaeid noted that in addition to the political relationship between the Islamic Republic of Iran and the Republic of The Gambia, economic ties are also growing.
For his part, Mr. Ali Asghar Kalbasi Esfahani, the Managing Director of (IGARD) said skillful agent is the most important factor for transferring technical science specially livestock knowledge to the farmers.
According to Mr. Asghar, it is necessary to have short courses for the agents in the field to be aware of latest knowledge about common disease and disease control, and also livestock management practices.
He expressed IGARD's pleasure in funding the training base on what he referred to as the concept of livestock health and production services.
The Deputy Governor of LRR, Mr. Wally Sanneh, stated that the training would foster the decentralisation process, noting that the most important thing in the training is the knowledge gained from it. He urged them to take the training seriously.
Read Other Articles In Article (Archive)