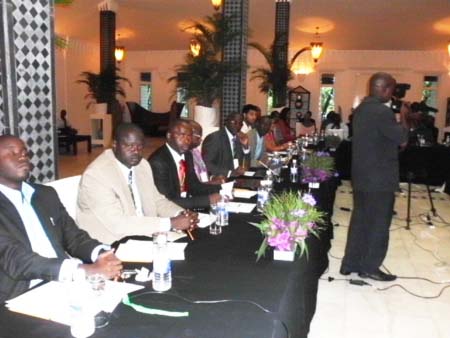 The Government of The Gambia, in partnership with the International Telecommunications Union (ITU), is hosting a five-day workshop on regulatory auditing and cost modeling in sub-Saharan Africa.
The weeklong training workshop kicked off on Monday at the Coco Ocean Resort and Spa in Kololi.
The workshop is held to train relevant officials on regulatory auditing and cost modeling in delivery of services in communications, by ensuring the understanding of price regulation and market analysis in the context of the competitive provision of electronic communications services.
Delivering his opening statement at the event, Nana Grey-Johnson, Minister of Information and Communications Infrastructure, said The Gambia has always been a beneficiary of many ITU-sponsored projects and capacity building initiatives, which the country is much grateful for.
He reassured the ITU through its representatives at the forum, of The Gambia's continued and unflinching support towards fulfilling its mandate.
Minister Johnson told participants that the new technological developments provide great potential for efficient and cost-effective solutions through Next-Generation Networks (NGN) and efficient energy systems.
These benefits, he noted, have to trickle down to the end users while challenging the workshop participants to look at such possibilities to modernize and create innovative use of Information and Communication Technologies (ICTs) to deliver e-services and mobile services such as mobile money, e-payments, purchase of power citing (QCell in The Gambia) as one example.
According to him, the ministry's vision is to provide affordable, available and accessible ICT services and opportunities to every Gambian with the requisite infrastructure and enabling environment.
He also spoke about the ACE project which connects The Gambia to the Africa Coast to Europe, in which, he added, the Government of The Gambia has also invested.
For his part, Abdoulie Jobe, director general of PURA, said PURA's focus on utility regulation in The Gambia is on Telecommunication /ICT, electricity, water and sewerage.
According to him, in these areas the institution is mandated by the PURA Act of 2001 to provide guide on rates and fees for the provision of regulated services, initiate and conduct investigations into standards of services by public utilities, promote fair competition among utilities, and also recommend and administer a licensing system for public utilities among others.
"The design of the workshop is very relevant to PURA's core mandate of price regulation which is critical to the development and promotion of the use of services in our country," he said
Read Other Articles In Article (Archive)