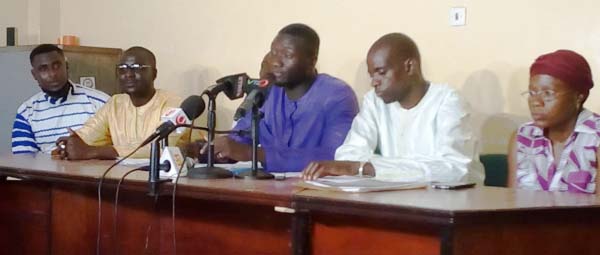 (Monday 21 October 2019 Issue)
Basketball clubs in The Gambia are set to hold their extraordinary congress on Saturday 2nd November, 2019 at the Friendship Hostel in Bakau, to elect new executive members to steer the affairs of Gambia Basketball Association.
At a press conference on Friday, Muhammed Njie, Secretary General of Basketball Clubs said they will go ahead with the congress with or without the presence of both the National Sport Council and the Gambia Basketball Association (GBA) Executive, should they decide to absent themselves.
He highlighted that the decision to go ahead with the congress is in line with the GBA constitution which they will apply to the fullest.
The Association's Annual General Meeting was scheduled to take place on 6 October 2019, but failed to take place as planned. Club managers pointed out several irregularities carried out by the executive over the period which warranted them to write to the executive to take steps in the interest of the game.
According to them, both the Ministry of Youth and Sports (MoYS) and National Sports Council (NSC) are fully aware of the happenings but fail to take any steps in resolving the matter.
They reminded the NSC that as the regulatory body of sports in The Gambia, they should, without fear, favor and ill-will, exercise Paragraph 5 (H) of the 2000 NSC Act, that states that one of the responsibilities of the NSC is to "Ensure that National Sports Associations/Federations at all levels conform to the national and international rules, regulations, norms, standards and codes of conduct governing the particular sports."
They threatened to report the NSC to the Office of the Ombudsman, the Federation of International Basketball Association (FIBA) and even take the matter to court if the NSC fails to recognize the new executive they will elect.
According to basketball stakeholders, the GBA has not held an AGM since 2016 and its constitution has given basketball stakeholders the right to organise an extraordinary congress after 40 days of requesting for an extraordinary congress from the GBA which they did since November 2018.
"All we want is to build a national team for our country and give an opportunity to young basketball players to pursue their dreams in basketball and education, they went on, saying: "this is not about us but the future of young basketball players and this country and as such we will not allow a few individuals to disappoint all these young people.
"We are here to help young ones get what they deserve because at the moment basketball and basketball players are suffering," they concluded.
Read Other Articles In Article (Archive)