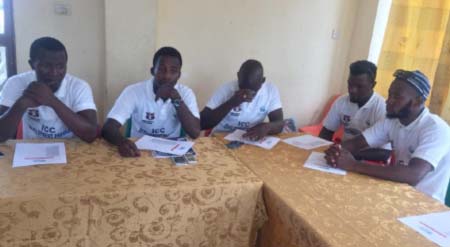 (Monday 21 October 2019 Issue)

Thirty cricket coaches, Friday concluded a three-day training on level one development coaching course organized by the Gambia Cricket Association and powered by the International Cricket Council (ICC), at the Friendship Hostel at the Independence Stadium in Bakau.

Jonney Gomez, president of The Gambia Cricket Association said they need more coaches, adding that every organisation needs governance without which it will fail.
He added that the course is meant to ensure coaches are able to deliver and know how to train children on both theory and practical aspects.
Gomez advised participants to do their best during the course because as coaches they should know better than their players.
According to him, they want to restructure coaches which was why they selected development coaches.
Executive Director of the National Sports Counsel, Marcel Mendy tasked coaches to take the training very seriously as one can only teach and give what they know, adding that if our coaches are not well trained they would not be able to train our athletes well resulting in our athletes and national teams not doing well.
He pointed out that participants are expected to be good ambassadors as well as share the knowledge gained at the end of the course.
Ebriama Jarju a teacher who was one of the participants expressed hope that cricket might even overtake football in The Gambia as they are empowering cricket in schools.
He encouraged people to take the sports seriously, describing it is the biggest business in the world.
Read Other Articles In Article (Archive)