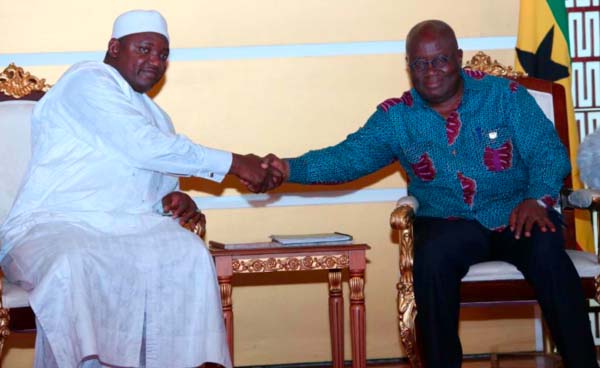 President Adama Barrow arrived in Ghana on Friday and held a meeting with his Ghanaian counterpart during which he thanked President Akufo-Addo for the support his country rendered to The Gambia during the crisis that gripped The Gambia following the December 1st 2016 polls.

Gambian President Adama Barrow has thanked President Akufo-Addo for his support in helping restore democracy in The Gambia.
Mr Barrow visited Sierra Leone, Ghana and Liberia to thank their leaders for the important role they played during the political logjam.
President Barrow expressed his gratitude during bilateral talks with Nana Akufo-Addo for the latter's support during the post-election impasse in The Gambia.
The Gambian leader said: "I am pleased to come and visit you in Ghana as President, as a brother and as a friend. We all contested elections at the same period, we all won the election as opposition and both incumbents lost the fight. My message is to come and say thank you."
HE added: "We have a proverb, saying that if you want to visit a farmer and you want to thank him for a remarkable job, you have to visit him at his or her farm and that is why I am here today."
There were heightened tensions in The Gambia, after long-time ruler Yahya Jammeh rejected the results of the December 1, 2016 election, weeks after he had conceded defeat to opposition leader Adama Barrow.
Jammeh eventually stepped down under pressure from ECOWAS and the AU.
President Nana Akufo-Addo, for his part, expressed joy at President Barrow's visit saying: "It is a joy for us to see you here with us in Ghana. I will always have you closely associated in my memory because one of the first important decisions I had to take when I became President was in The Gambia. And that was the decision I made to support the ECOWAS military force with Ghanaian troops."
The Ghanaian president said he decided to support the ECOWAS mission with some 208 soldiers during the post-election impasse in The Gambia because "the process of democratic consolidation in Africa requires that the region support the Gambian people."
Read Other Articles In Article (Archive)