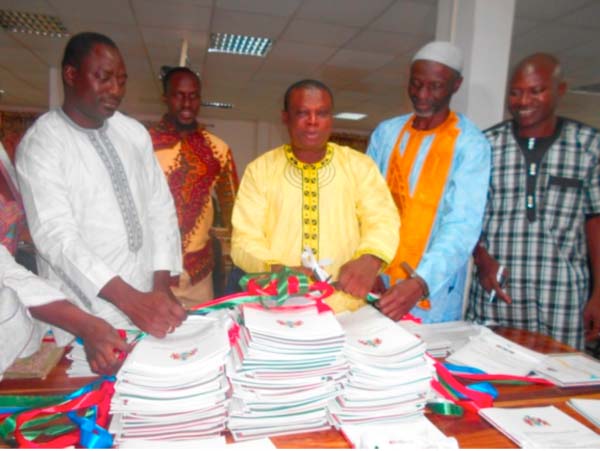 The Directorate of Planning and Information under the Ministry of Health and Social Welfare, in partnership with WHO, launched two important documents on Friday.

They were the National Monitoring and Evaluation Plan (NMEP 2015-2020) and the National Health Indicator Booklet.
Attended by health workers from diverse workplaces under the auspicious of the Ministry of Health, the launching ceremony was held at the ActionAid conference hall.
Speaking at the ceremony, the permanent secretary at the Ministry of Health, Dawda Ceesay, said monitoring and evaluation of key national health indicators to measure performance for the ministry, which is imperative for any effective decision-making process.
"The first-ever national health sector Indicator Booklet and the M and E Plan for The Gambia shall serve as a reference guide to monitor core performance health indicators for the Ministry of Health and Social Welfare," he said.
He urged all partners and donors to make reference to these important documents.
He said: "A key priority area on the M and E Plan is strengthening surveillance, monitoring and evaluation at all levels so that key indicators are routinely monitored and used for decision-making."
The overarching goal of developing a national monitoring plan and National Health Sector Indicator Booklet is to have a robust, harmonised and updated system that focuses on key/core performance indicators including health sector preparation and response.
"The M and E unit will take the lead role in monitoring the implementation of the NHSSP 2014-2020. These require active participation, engagement and information sharing with all relevant stakeholders." he added.
PS Ceesay thanked the WHO country office for the technical support in printing and distributing the M and E plan and the National Health sector indicator Booklet.
He said the MOHSW embraces the genuine efforts of their partners to support the M and E Unit to track the progress of their national health indicators.
Momodou Gassama, communications officer at the WHO country office, said WHO has accelerated support to the Ministry of Health and Social Welfare to put in place a robust strategic planning, policy implementation, monitoring and coordination process for the health sector since 2007.
He said there were challenges on the way but together they were able to accomplish the task.
Mr Gassama also stated that the health indicator booklet was developed in a consultative process in 2016 using the new WHO global reference list of 100 core indicators 2015.
The health indicator booklet contains 70 core indicators, carefully chosen by the sector led by a team of M and E experts.
Mr Gassama reiterated the WHO's commitment to supporting the Ministry of Health, the government and people of The Gambia in promoting the health and wellbeing of the Gambian people.
Read Other Articles In Article (Archive)