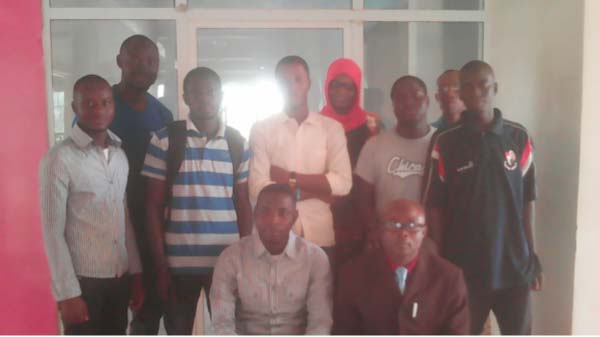 The West African Association Against Illegal Migration (WAAAIM) and Youth Mainstreaming Positive Change (YMPC) Saturday held an open forum to address the needs of young people on illegal migration, tribalism and youth empowerment.

Held in Bakoteh at the Vision Real Estate office, the forum also witnessed the two youth organisations signing a memorandum of understanding to work together to addressing the needs of the youth.
Speaking at the forum, the Secretary General of WAAAIM, Rev. Thomas Dzilcunm, said WAAAIM is a non-profitable organization established in 2015 by well-qualified teachers in 5 different countries such as Nigeria, Ghana, Sierra Leone, Senegal and The Gambia with its headquarters in The Gambia.
It was set up when they realised the youth including students were living classes to embark on the deadly back-way journey.
They thought it wise and prudent as teachers to set up an organisation to address illegal migration, he said, adding that someone was sent to travel through the back-way to see what young people are facing during such ventures.
He said the organization was established to sensitise the youth on the dangers of illegal migration and its negative impacts on national development.
Also speaking at the forum, the chairman of WAAAIM, Dr Francis Ojuji, said as responsible people they joined efforts in addressing the back-way journey as it is causing disaster in families and nations.
They are also inviting other organizations to help in making the youths comfortable in their motherland, he said, adding that young people should be convinced of the consequences of embarking on the illegal journey to Europe as they are the most vulnerable.
He said their organization had been successful in sensitising the youth on the dangerous back-way journey to Europe.
The president of YMPC, Yusupha Darboe, in his remarks on the occasion, said their organization is advocating for no-tribalism, youth empowerment and illegal migration.
He said they have embarked on a nationwide tour to sensitise the youth on issues affecting them, to strengthen the capacity of young people for national development.
Lamin B. Sawo, secretary general of YMPC, said the main reason for the illegal migration is failure in leadership and that Africa has lots of natural resources that could help young people.
They always tell stakeholders that if nothing is provided for the youth they could not lead a dignified life.
In illegal migration, he noted, two things are involved; the push factor and the pull factors, noting that if nothing is provided to them they would have no option but to take the back-way journey.
"We should serve as watchdog to our leaders to get them to work and not to praise them. The problem of Africa is that we give power and sit in our comfort zones, which is a disadvantage for our people."
He added: "It is time to make good use of our natural resources to make the youth have a dignified life. The aim of the organisation is to help youth in the area to get employment and empowerment."
Read Other Articles In Article (Archive)