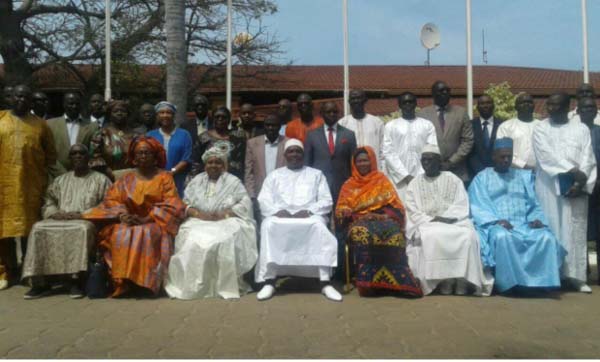 A Transition Team between the former Cabinet ministers and current Cabinet ministers was Wednesday launched at the Kairaba Beach Hotel.

The event was attended by the former ministers, the former vice-president, as well as the current ministers, Vice-President and President Adama Barrow.
Speaking at the ceremony, President Barrow reflected on the will of the people expressed in a free and fair election in the December 1 Presidential election of 2016.
"We are assembled here for an important step on our democratic agenda: the inauguration of a Joint Transition Team, and our 1997 Gambian Constitution requires a defeated President to exit office after an election; that is why the outgoing president was expected to properly hand over power to my government. This is to make sure there is institutional continuity of knowledge and experience.
"This requires the two sides to work on a transitional programme," President Barrow went on, adding that the political stalemate after the December 1 presidential election of 2016 made it impossible to have a proper handing over; hence no formal handing over was undertaken between the government of ex-president Jammeh and the current government.
"This seriously affected the functioning of the administration and the lives of thousands of citizens, and it had also damaged the image of the Gambia as it created fear and panic in the people," Barrow recalled.
"The Gambia shall remain an independent and sovereign state regardless of our political, ethnic, religious affiliation," he emphasized.
"We should all work to contribute to the unity and togetherness of our country. To achieve these goals, you have been requested to work as a Joint Transition Team for the benefit of the Gambian people, who have gone through many hardships," Barrow told members of the transition team.
"My government is committed to democratic principles and the will of the people, and also committed to the principle of continuity of governance and the need to build durable and independent institutions of state."
He continued: "Today's process, therefore, lays a foundation block and sows the seed for fully transparent and accountable governance and, as I hinted earlier, in the medium term we will develop a stronger framework and mechanisms to better regulate the transition."
In concluding he said: "I wish to end by stating that this process is simply to collect facts and information. What is required here are facts which will inform policy decisions for the benefit of the entire country, with the support of our friends and partners from the international community. We the people of The Gambia have embarked on an important journey, as a free and independent country, that will shape the destiny of our children and grandchildren.
"On this note, please permit me to declare this transition team duly launched."
Read Other Articles In Article (Archive)