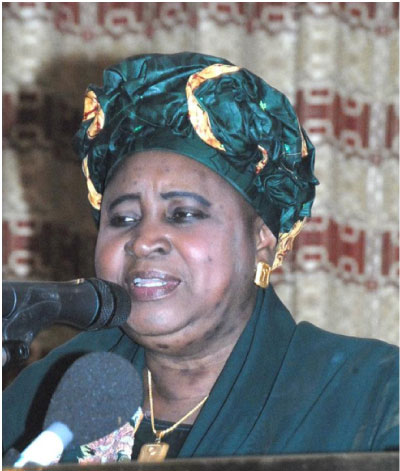 The former Gambian Vice-President, Dr Isatou Njie-Saidy, has said The Gambia is one country, one nation and one people.

"If The Gambia succeeds it succeeds for all of us. But if there is retardation all of us will face it," she added.
She was speaking at the ceremony to launch the joint transition team on Wednesday, held at the Kairaba Beach Hotel.
"We are one people irrespective of political affiliation; irrespective of our differences. We should work in unison to ensure the success of The Gambia.
"The success of The Gambia is for all of us, not just for the government. We need the success of the entire Gambian people."
She added that whatever services are needed from them by the present government, they are willing and open to give their guidance and advice "because it is all about institutional memory."
She said: "22 years is not 22 days, as a lot must have happened and we can share experiences which could be good or bad, but its development."
"There must be trial and errors, and we can learn from our challenges and failures just as much as we can learn from our successes and progress."
This was why, she continued, they felt that the transition was very important, and she thanked the international consultants undertaking the process.
"We never had this sort of transition where a government will hand over to another government. We've only have three governments after colonialism. I presume both incoming and the outgoing governments are in a dilemma," she said.
On behalf of her former colleagues in the ex-government, she thanked the incoming government for embarking on the transition process.
Read Other Articles In Article (Archive)