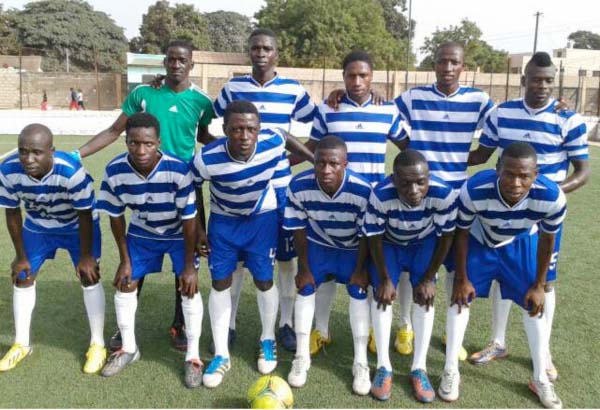 T
he most successful team in Gambian football Wallidan finished the second division league on a flourish drawing their last match of the season 1-1 against KGI, to take overall command of the table tallying a total of 39 points, 7 points ahead of second place Banjul United.
The reward, a quick return to top flight football next season, meaning that the first tier of Gambian football shall never be the same again.
Wallidan surprisingly got relegated last season, leaving the nation stunned and wondering what might have gone wrong.
Indeed the Blue Boys, as they are romantically called, are so used to winning that many people speculated as to whether the football authorities in the Normalization Committee would not expand the league to avoid a respected team from the drop.
But Wallidan's life president OB Conateh, who reigns as the NC Chairman, vowed that he would never go the way of conflict of interest and instead allowed the natural cause of event, with Wallidan to tasting their experience of relegation in decades.
But said OB: "I knew that Wallidan players, management, technicians and fans would never leave their own brainchild of a well-earned success story to go down the drain. No. That is not Wallidan style and I am grateful to all of them for restoring the reputation and pedigree of this great team as fast as possible. The traditional Wallidan spirit of winning and winning shall never die."
Club coach Foday Bah, who knows very well what title glories mean, both as player and coach, told Hot FM radio that Wallidan's playerslived upto their billing and carried out a perfect plot for the return to the top flight as envisaged by the officials and bosses.
"We started dully, but once we struck form, it was all forward matching to the finish. I am happy that we are back into first division," Coach Bah said.
Team President and the most successful coach of Wallidan, Adama Halla Samba, said Wallidan are not used to second division."So we regrouped quickly after some spell of complacency to come back top where we belong," he said.
Wallidan are easily the Manchester United of The Gambia, winning a record 19 league titles and 22 FA cups among other accolades.
The team is perhaps the single largest contributor to the successive national teams, producing the great and legendary Biri-Biri, Jatto Ceesay and Ousman Jallow of separate generations.
For the records this is how rich the Cup of Wallidan is.
League titles 19.
FA Cups 22
•CAF Champions League: 6 appearances
1998 - Qualifying Round
2002 - First Round
2003 - First Round
2005 - withdrew in Preliminary Round
2006 - withdrew in Preliminary Round
2009 - Preliminary Round
• African Cup of Champions Clubs: 3 appearances
1978: First Round
1980: First Round
1986: First Round
• CAF Confederation Cup: 1 appearance
2004 - First Round
•CAF Cup Winners' Cup: 8 appearances
1975 - First Round
1977 - First Round
1979 - Second Round
1982 - First Round
1985 - First Round
1988 - Quarter-Finals
1995 - withdrew in Second Round
2000 - Preliminary Round
Read Other Articles In Article (Archive)