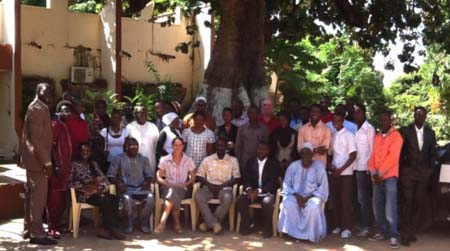 Biodiversity Action Journalists - The Gambia (BAJ Gambia) on Thursday held a daylong project inception workshop at Tango hall in Kanifing.
Speaking on the occasion, Abdourahman Sallah, National Coordinator of BAJ-The Gambia, said the project was developed in a bid to encourage public participation in protecting and conserving the country's natural resources for present and future generations.
According to him, BAJ-The Gambia is an environmental and natural resources youth-led organisation founded in December 2010 with technical support from the Department of Parks and Wildlife Management.
The project, entitled "Creating Public awareness on environmental protection and mitigation", is funded by Global Environment Fund (GEF) Small Grant Programme of the UNDP.
He disclosed that the 12-month project seeks to increase public awareness on environmental protection and mitigation through the provision of accurate, timely and cost-effective information.
In his keynote statement on the occasion, Lamin Jawara, deputy permanent secretary at the Ministry of Environment, Parks and Wildlife, said the project targets environmental journalists, forest users, local authorities, local farmers and other relevant stakeholders in a bid to promote greater protection and conservation of the country's remaining biological and national resources with all its attendant benefits.
He noted that the project is in line with current national biodiversity action plan of The Gambia and the Banjul Declaration of 1977 which states: "The survival of the wildlife still remaining with us and the setting aside of protected natural habitats for them is the concern of all of us."
For his part, Mr Kebba Bojang, National Coordinator of the UNDP GEF Small Grant Programme, said the project among other things aims to create awareness on environmental protection and conservation techniques as well as create a platform for information sharing on matters relating to the environment.
According to him, the UNDP GEF Small Grant Programme was established in 1992 to provide financial and technical support to protect, conserve and restore the environment while enhancing people's wellbeing and livelihoods.
Since the GEF Small Grant Programme began making grant in 2009 in The Gambia, it has funded 40 community-based initiatives all over the country. Currently, it has 22 ongoing projects and has committed over US$1.8 million, he disclosed.
Mr Bojang stressed that these projects have targeted mainly poor and vulnerable groups and communities and have contributed greatly towards environmental restoration and improving sustainable livelihoods.
Other speakers included Board member K.K Barrow of TANGO and Saikou Ceesay of GPU while BAJ social secretary Momodou Edrisa-Njie chaired the ceremony.
Read Other Articles In Article (Archive)