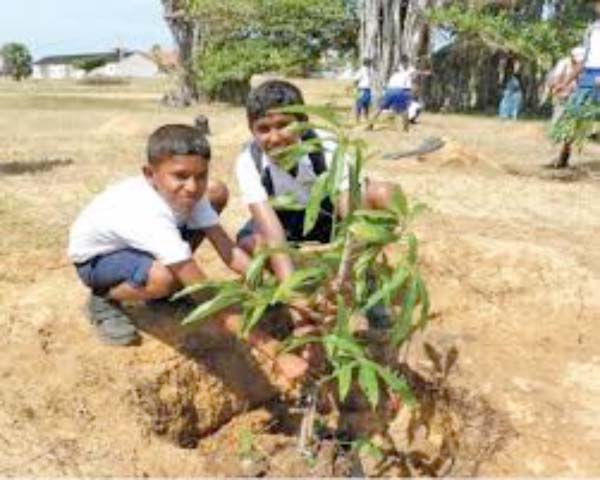 Badala Lower Basic School management and national School Management Committee (SMC) in collaboration with the local communities and officials from the regional education directorate have embarked on a tree planting exercise as part of efforts at protecting the environment.
Held at the school campus, the activities marked the official handing over of T & A Charitable Foundation-sponsored hand pump well to the Ministry of Education through the regional education directorate in region 5.
Speaking shortly after the exercise, Mr Alpha Omar Jallow hailed the SMC and people from the catchment communities for their participation in the exercise, saying tree planting is significant in protecting and preserving the environment.
According to him, the participation of stakeholders in the exercise was a clear indication of their patriotism and love for the environment.
He said planting a tree is one thing but protecting the tree to reach maturity is another, so he tasked the SMC and school management to ensure the planted trees are well taken care.
"This was made possible thanks to T & A Charitable Foundation and its partners - World House Eidhoven in the Netherlands - for their commitment to bring about sustainable development not only to the school but also to the communities at large.
For his part, Morro Dampha, headmaster of Badala Lower Basic School, further hailed the community of Lamin koto, the school management and the education directorate for their concerted efforts at making the exercise successful.
During the exercise, different types of trees were planted including mangoes and cashew.
Mr Dampha called on the SMC and local communities to be more pro-active about the welfare of the school children and the school by working hand in glove with the management to ensure learning and teaching environment that is conducive for all.
He also assured T & A Charitable Foundation that the planted trees will surely be taken care of. "I have a dedicated caretaker, SMC and school children, who, together, will ensure the trees are protected from fire or stray animals.
The chairman of the SMC, Momodou Lamin Jallow, expressed appreciation to T & A charitable foundation for its "timely and suitable" support.
"We have just got new water facility, and today we are planting trees, which means trees have 100 percent possibility to survive," he said.
"The SMC is willing to work with the school management in the interest of the children to ensure that the school achieves its goals and objectives as far as education is concerned," he added. 
Read Other Articles In Article (Archive)