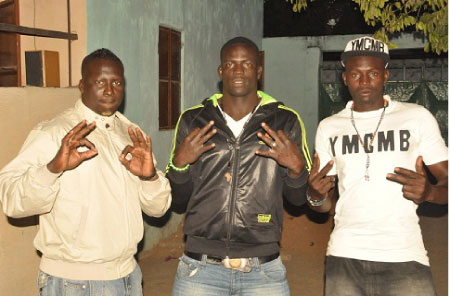 Three young promising Senegalese wrestlers, who are in The Gambia on a visit to their friend Omar Jaw, told The Point recently they are in the country to promote wrestling.
This, they said, will enhance closer relationship between The Gambia and Senegal, particularly in the wrestling fraternity of both countries, who share the same culture and tradition.
The three Senegalese wrestlers are Kartus, Calciyos, both from Fekemaky Wrestling Club, and Mbas'e from Dor Dorati Wrestling Club in Senegal.
"Our coming from different wrestling clubs in Senegal does not matter; what matters is how to move wrestling forward in Senegal and in the Senegambian region in particular, said Kartus, head of  the team.
According to Kartus, he had taken part in many wrestling contests in the country with the recent one being the contest staged by African NUWA.
He commended his Gambian friend Omar Jaw for all he did for them during their stay in The Gambia, describing him as a real friend in deed.
"When it comes to so many things, notably culture and tradition, Gambia and Senegal share the same and we do intermarry; so it is through sport that we can enjoy our neighborhood and relationship comfortably," Kartus told The Point.
He also expressed profound gratitude for the country's leadership "who are always at the forefront when it comes to sport, especially wrestling".
"Let give this piece of advice to the wrestlers and wrestling organizers in The Gambia to not put the financial aspect of wrestling first; instead they should put the professional aspect of wrestling first," Kartus said.
Kartus promised to come back to The Gambia to participate in a peaceful wrestling contest just to show his love for sport, particularly wrestling.
"Wrestling is an enjoyable sport if wrestlers know how to play the game," he said, adding that he does distance himself from wrestling when it involves violence because such a thing would not help any wrestler or organizers to prosper in the profession.
The Senegalese youngsters describe Omar Jaw, their Gambian host, as a real promoter of wrestling in The Gambia, saying that as far as they are concerned The Gambia is their second home because whatever enjoyment they enjoy in Senegal is the same enjoyment and hospitality they are receiving in The Gambia.
Read Other Articles In Article (Archive)