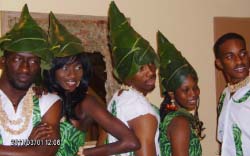 A press release sent to Point's Entertainment has revealed that Brickwall and Ziza Creations have officially launched the much anticipated cultural expo dubbed the Back-to-the-Land Cultural Expo.
The official launching was held at the Kairaba Beach Hotel. The event, which featured a strategic gathering of The Gambia's most notable media houses as well as organisers and partners of the Expo, is the first of several events pertaining the initiative.
According to Ismaila Jallow, co-founder and CEO of Brickwall, one of the organisers of the event, said the Expo is a one of a kind initiative.
He noted that it is aimed at celebrating Gambian culture and identity through entertainment, fashion and design.
"Moreover, it aims to increase awareness of the use of local resources to champion our national development, a theme that is in line with the government's Back-to-the-Land initiative which seeks to promote food self-sufficiency in The Gambia," he said.
"Our mission is to widely champion the use of local resources and ingenuity to push our country's national development agenda."
The launch, which highlighted the activities under the fashion and entertainment-theme initiave, also featured an exclusive fashion show by renowned designer Abdul Aziz Lowe of Ziza Creations, popularly known as Ziza, who will also showcase his designs at the grand fashion show on 25 March.
Read Other Articles In Article (Archive)