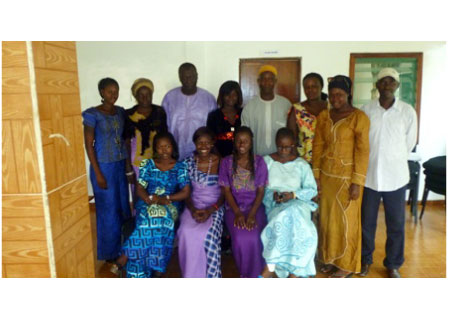 GRTS Ndey Busso has been elected new president of the African Women Sports Reporters Union (AWSRU) the Gambia Chapter on 15 June at the Gambia Press Union secretariat.
The election followed the end of a two-year mandate of the previous executive headed by The Point's Sainabou Kujabi-Njie.
The election, attended by members of the union after its launch, was witnessed by the Honorary Life President of the Sports Journalists Association of The Gambia, Alh. Pap Saine, and Executive Secretary of the National Sports Council, Max Jallow, on Friday morning.
In his launch statement, Max Jallow pointed out the limited participation of women in sport, hence tasked the AWSRU to encourage women athletes into sport.
He called on them to encourage diverse coverage of sports irrespective of sex.
The NSC boss also pegged training as an important element for the success of the union and its members to ensure proper and effective reporting.
The Honorary Life President of the Sports Journalists Association of the Gambia, Alh. Pap Saine, in his statement on the occasion, advised union members to always seek advice and conduct research before any duty to ensure success in the future.
He added that the body should build cordial relations with sports organisations and exercise impartiality in the execution of their duties.
In her remarks, outgoing AWSRU president Sainabou Kujabi-Njie said the AWSRU-The Gambia chapter was formed on 24 April 2010 following a call from the continental body.
"The union, which is operating under the Sports Journalists Association of The Gambia, aims to increase prominence and women participation in sport as well as encourage young women to take up sports journalism as a profession," she said.
"It also strives to add effort to the training of women sports journalists and encourages the participation of its members in major sporting events in Africa in particular and the world at large."
Other executive members are Rohey Bittaye, 1st vice president, Mama Faal 2nd vice president, and Fatou Saho, general secretary. Lawratou Bah is the assistant general secretary, Ida Bah treasurer, and Tombong Jadama, adviser.
The new president of the AWSRU, Ndey Busso, spoke on the challenges ahead of them, calling on support from all and sundry.
She also seized the opportunity to honour former AWSRU President Sainabou Kujabi-Njie as the Union's Honorary Life President.
Read Other Articles In Article (Archive)