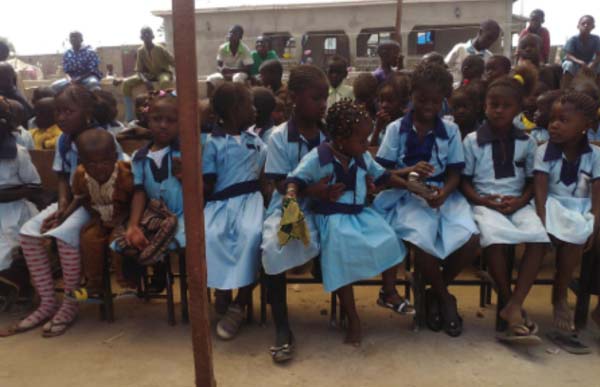 Ancha Jagne Nursery School was Saturday boosted with over D23, 000 in a scholarship package by the namesake of the School, Ancha Jagne-Ceesay and partners, as announced at an official handing over held at the school grounds in Lamin Kerewan.
Ancha Jagne Nursery School comprises 22 children.
Speaking at the handing over ceremony, Lamin Saidykhan, the head-teacher of the school said as a young Gambian, he made a study and found out that there are many children playing around in the streets without going to school.
He said he was motivated to set up the school as there are many nursery schools, but the reason of children not going to school is the lack of school fees.
He said the fees of the nursery schools are too much, as most of the schools charge D400, D500 and D600 per term, and most of the nursery school operators are foreigners.
"I started venturing into the nursery school in Bundung with one classroom and a teacher, and we charge D200 per term," he said.
He said Dr. Ancha Jagne came in to assist the school and took the problems of the school as her own, adding that from that day Dr. Jagne has always stood by the school.
Dr. Ancha Jagne-Ceesay, the sponsor of the school, said along with her partner and family they brought sponsorship for the children in the sun of D23, 500, which included funds to build two toilets and teachers' salary for three months.
Dr. Jagne thanked everybody for coming, and said though it was very hard to gather funds, but with friends and family who stood beside her, they were able to raise such an amount for the children who are so dear to her.
Ebrima DF Jarju, counselor for Lamin Ward, said Dr. Jagne is an educationist who has been supportive toward education.
He said when parents do not take their children to school, there would be no school, adding that the parents should teach the children the norms and values of the society they live in.
To the teachers, he said, they should not see the children as someone else's children, because the children are entrusted in their hands.
He said the community of this area should take their children to school, as no one would complain of the distance of schools since schools could be found everywhere.
Pa Modou Faal, the coordinator, said Dr. Jagne started with the physically disabled persons and later shifted to helping children.
He said these children are the future of the country and supporting them is very vital.
He said Dr. Jagne is a philanthropist, and Gambians should emulate her gestures to help the needy and vulnerable groups in the society. 
Read Other Articles In Article (Archive)