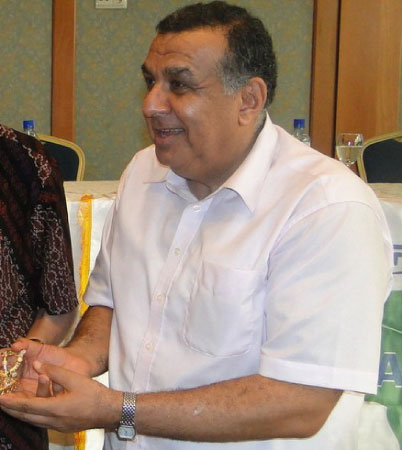 The Federation of International Volleyball (FIVB) Vice-President, Dr Amr Elwani, was recently re-elected to serve as president of the African Volleyball Confederation (CAVB) in Khartoum, Sudan.
Elwani, who won the majority of the votes, is expected to run the affairs of African Volleyball for another four years.
He has bagged 41votes out of the total votes of 48 that were up for grab.
In attendance at the CAVB general assembly were the National Federations and the FIVB president Jizhong Wei, FIVB 1st executive vice-president, NORCECA, president Cristóbal Marte, FIVB executive vice-president, CEV president André Meyer, FIVB executive vice-president and CSV president, Dr Ary Graca.    
The other presidential candidate was Tubby Reddy, who got 6 votes with one invalid.
Elwani will join the board of 6 vice presidents, namely Mory Keita of Guinea Conakry
(45 votes), Habu Gumel of Nigeria (43 votes), Munir Ben Slimane of Tunisia (43 votes), Idriss Dokony of Tchad (42 votes), Waithaka Kioni of Kenya (42 votes) and Camilo Antao of Mozambique (39 votes).
For the gender minority, Touria Aarab of Morocco (43 votes) and Aminata Fofana (40 votes), who were both added to the board.
The other CAVB representatives to the FIVB board are Habu Gumel of Nigeria, Louis Timba of Cameroon, and Issiaka Sawadougou of Burkina Faso. They were honoured with roles as FIVB board members together with Elwani, the newly elected president of CAVB, who is automatically qualified to serve as FIVB board member. 
Earlier on Friday, FIVB and CAVB expert Abdel Hadi Ghzali announced his withdrawal from the CAVB vice president's position and has vowed to retire from all his posts in volleyball, Pointsport was reliably informed by Musa Casa Taal, president of the Gambia Volleyball Association, who also attended the congress.
Read Other Articles In Article (Archive)