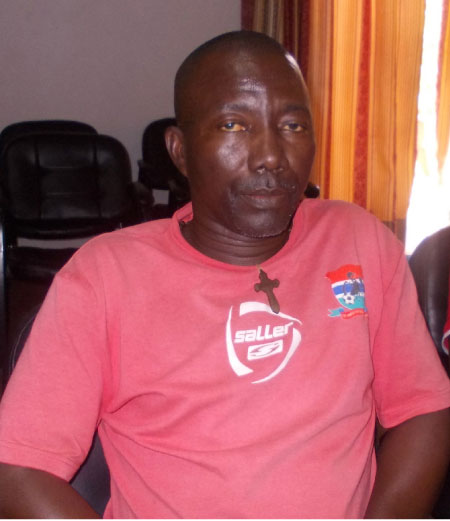 Visitors Algeria scored two second half goals to down host Gambia, and put a disturbing start to the Scorpions campaign for the 2013 Nations Cup preliminary round qualifiers.
The 2-1 defeat at the Independence Stadium in Bakau nullifies Gambia's unbeatable record at home for five years.
The Algerians who meant business played comfortably with the ball, to ensure an easy finish for them in the return leg in Algiers.
Momodou Ceesay gave The Gambia, under new Coach Peter Bonu Johnson, their first goal celebration in the 26th minute from a well-placed ball, kicked from the right side of the Algerian post.
Algeria captain Yahia sent home an equalizer eight minutes into the second half, to give the visitors a crucial away goal.
The tables further turned in their favour, when Feghouli Sofiane sent Algeria ahead seven minutes later, after taking advantage of a goal-keeping error.
The match commenced at a slow pace, with the Scorpions playing with much caution.
Sanna Nyassi and returnee Demba Savage managed to keep up in their various flanks, and that left the ball entirely dominated by the Algerians, who toiled in the Scorpions' half all the time.
The Scorpions who made verbal assertions of their readiness for Wednesday's game, failed to entertain the jam-packed stadium, leaving disgruntled fans speechless.
Coach Bonu Johnson and boys' do or die game, which turned out to be rather unimpressive, has created difficulties for the Scorpions, and their qualification chances in the preliminaries.
The Algerians dominated the mid-field leaving behind Scorpions team captain Mustapha Jarjue with nothing much to do 15 minutes into the first half.
Ousman Jallow and Momodou Ceesay created few disturbances, occasionally, on the Algerian goalie, and injected an almost lifeless and struggling team with action.
Algeria's first goal in the 19th minute was disallowed by the assistant referee, a ruling that was virtually seen as controversial.
One minute later, Sanna Nyassi could have doubled the lead from an Ousman Jallow flip, after slightly sending the ball away from the goal.
The Scorpions travel to Algeria in June this year, for the return-leg.
Read Other Articles In Article (Archive)