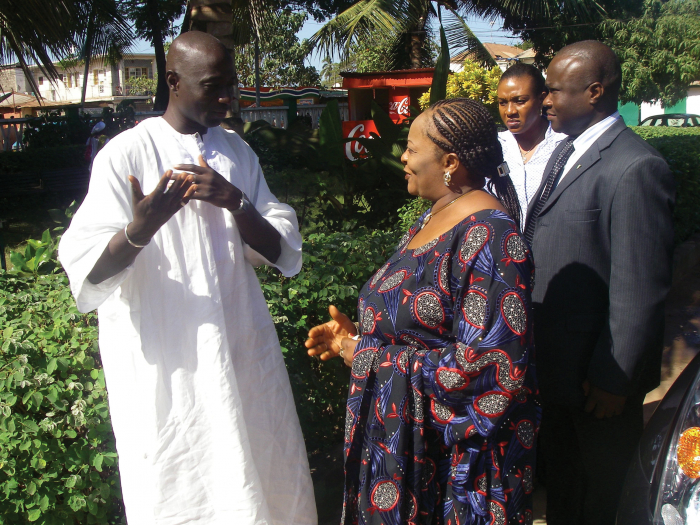 The Nigerian High Commissioner to the Gambia, Esther John Audu, on Monday paid a visit to the Gambia National Museum in Banjul.
High Commissioner Audu and her entourage were received on arrival at the museum by Bala Saho, Director General of the National Centre for Arts and Culture (NCAC).
Briefing ambassador Audu, the NCAC Director General said the centre exists to preserve the cultural heritage of the Gambia.
"It does that by maintaining cultural sites and by carrying out cultural festivals such as the Roots Homecoming Festival and the Kanilai International Festival, as well as by managing all museums in the country," he added.
According to Saho, his institution plans to organize a Gambian cultural week during which Gambians will be asked to eat what they produce and wear what they make, and play only Gambian music, including all the radio stations.
This, he stated, is a pilot project which if successful will be integrated into national life. He added that he would send a proposal asking for assistance from the Federal Government of Nigeria through the Ministry of Culture and Tourism. Specifically, he requested for assistance for the Copyright Office.
High Commissioner Audu explained that her visit to the museum was to show that the Federal Government of Nigeria identifies with culture, respects traditions, and most importantly appreciates history.
According to the Nigerian diplomat, Nigeria is unique because of her cultural diversity. "Appreciating other people's cultures also fosters unity, peace and progress," she added. Madam Audu described the museum as "the custodian of history and science" through which "we leave a legacy for future generations".
"If people know what happened yesterday, know what is happening now, then they will be better able to appreciate the future," she said, adding that "at times you realize that humanity is all one, related in one way or another."
Audu was taken on a conducted tour of the museum, which was a journey through time and space in understanding the historical, social and economic forces that have shaped Gambian society from the pre-colonial era to the present day.
Read Other Articles In Article (Archive)