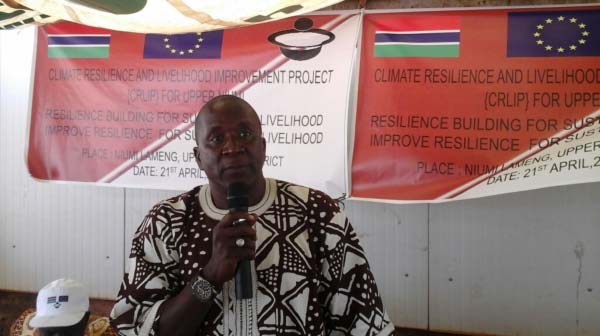 Agency for the Development of Women and Children (ADWAC) on Tuesday launched an EU-funded project aimed at supporting 2,580 smallholder farmers in Upper Nuimi to increase their resilience and get them adapted to impacts of climate change.
Through the Climate Resilience and Livelihood Improvement Project (CRLIP), ADWAC would also provide construction of anti-salt dykes to increase rice production, rehabilitate cold stores and build the capacity of farmers on disaster risk reduction and resilience building.
The D2.25 million project, launched in Nuimi Lamin village, is funded by the EU Global Climate Change Alliance; 10 per cent of the amount being contributed by Action Aid International The Gambia.
Mam Samba Joof, executive director of ADWAC, said the project would contribute to empowering communities to be catalyst of change on climate change adaptation and enhance their social and economic status. 
He said building resilience on climate change would increase food production and productivity and improve sustainable livelihood.
Mr Joof hailed the women of Nuimi Lamin for their continuous and sustainable efforts in vegetable production. 
He said the rehabilitation of the village cold store would enhance income and make vegetables available year round.
Lamin A. Jarju, ADWAC project coordinator, said the project would be implemented in nine villages in Upper Nuimi to enhance marketing of vegetable for 1,200 vegetable growers, adding that it would also empower the growers to determine the price of their vegetables as a way of promoting effective marketing concept.
Mr Jarju reiterated the commitment of ADWAC and its partners to the development of farmers to improve the adaption and resilience to climate change.
Mustapha Saidy, deputy governor of the North Bank Region, applauded ADWAC "for complementing the government's development efforts" in climate change adaptation and resilience.
He said the implementation of the project would enable women vegetable growers to have proper storage facility.
Deputy Governor Saidy said the project would contribute to empowering communities to diversify food production and improve livelihood development.
Mr Saidy urged beneficiary communities to ensure sustainability of the project.
Kebba Sonko, chairperson of the Nuimi Lamin village development committee, thanked ADWAC and the EU for their foresight and support in the rehabilitation of the village cold store, which he said would increase vegetable production and marketing.
Bakary Nano Njie, chairperson of Albreda Eco-zone Committee, and Kaddy Janneh, president of Vegetable Growers Association, thanked ADWAC and partners for their "invaluable support" to vegetable producers.
Hassan Manneh, station officer of Juffureh Police Station, said the project would promote peace building and sustainable development in the Upper Niumi District. 
Read Other Articles In Article (Archive)