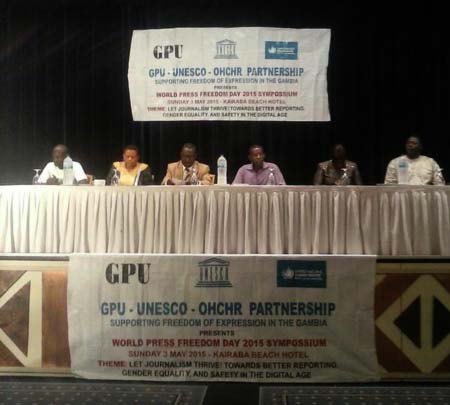 The Gambia Press Union (GPU), UNESCO and Office of the UN High Commissioner for Human Rights (OHCHR) Sunday joined the rest of the world to celebrate World Press Freedom Day with a symposium held at the Kairaba Beach Hotel in Kololi.
This year's celebration was witnessed by the media fraternity in The Gambia, veteran media personalities, as well as members of civil society and human rights organizations, on the theme: "Let Journalism Thrive; towards better reporting, gender equality and safety in the digital age."
The World Press Freedom Day is celebrated on May 3 each year to reflect on the entire efforts of journalists the world over in the interest of mankind and as well remember fallen colleagues who have died and of those killed in the execution of their journalistic duties.
Speaking at the event, OHCHR Africa regional Director, Muhamane Cisse Gouro, expressed his gratitude and appreciation to the GPU and UNESCO for associating with his office for the celebration of the World Press Freedom Day.
He said freedom of expression is at the core of the office of the High Commissioners mandate to ensure peace by promoting and protecting human rights for all.
He said fundamental human right is essential for other human rights to be achieved, adding that the preamble of the Universal Declaration for human rights proclaims freedom of speech and belief and freedom from fear and want.
He added that the right to everyone's freedom of expression can be found in article 19 of the Universal Declaration of Human Rights, which include the freedom to seek, receive and impart information and ideas regardless of frontiers.
The right to freedom of expression is further elaborated in Article 19 on the International Covenant on Civil and Political Rights not only on the international level but also on the regional level.
Hanah Foster from African Centre for Democracy and Human Rights Studies, in her remarks, raised the issue of journalism with gender because it is something that needs to be given a lot of attention.
She congratulated all journalists for rendering a noble service in the execution of their job, saying it is a task they have all committed themselves to.
The GPU President, Bai Emily Touray, gave the opening remarks. 
Read Other Articles In Article (Archive)