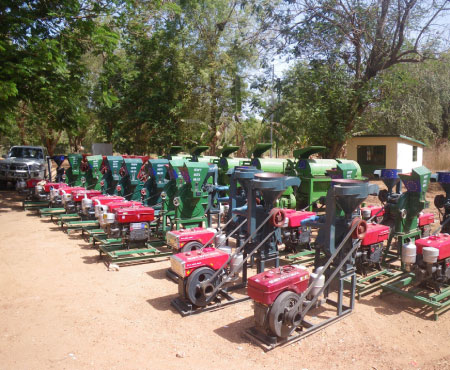 Following the recent commissioning of dozens of agricultural farming implements by the Gambia Emergency Agricultural Production (GEAPP), to the farmers across the country, the project Management recently trained milling machine operators on the donated equipment.
The capacity building initiative for threshers' operators and milling Machine operators was to help them to have better understanding of the usage of the machines.
Some eighty farmers drawn from all over the country recently gathered at the GEAPP Office in Abuko for a three-day training on threshers and milling machine operating skills.
Speaking at the official opening of the training, The Gambia Emergency Agricultural         Protect coordinator, Sheikh Tijan Sosseh, thanked the participants for responding to their call, saying their massive turnout to the training is a clear indication of the concern they have for themselves.
Mr Sosseh also reminded participants about the activities of GEAPP in the regions and the impacts the project has registered on the livelihood of farmers.
Mr Sosseh also asserted that the importance of the training cannot be overemphasised in the sense that the training is expected to yield dividend at the end of the day.
He also told participants to take good care of the machines as "they are procured at a very high cost".
Mr Sosseh further highlighted the importance his office attaches to having the milling machines in the communities, which, he added, can generate a lot of income if they are properly managed.
He said further that the training was held to build the capacity of the farmers on the proper usage and maintenance of the milling machines.
He also reminded operators of the milling machines that the machines are meant for the women kafo to be used in their catchment areas.
He also stated that one of their expectations, at the end of the day, is to let operators have a conversation with the villagers and enlighten them about the training, which is geared towards creating awareness in maintenance and usage of the milling machines.
"This is elderly training; as a result it is a sharing forum, and participatory for all," he said.
He also used the opportunity to thank the European Union for funding the project, as well as the World Bank, which is the implementing agent.
Read Other Articles In Article (Archive)