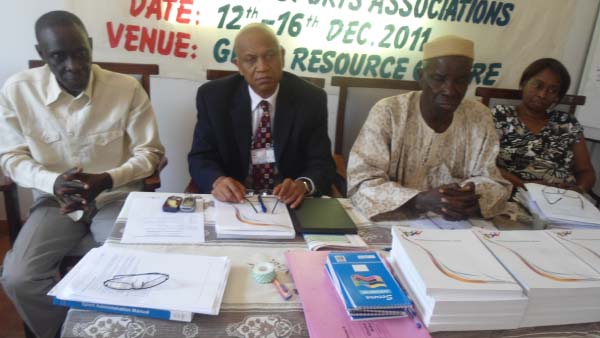 The Gambia National Olympic Committee (GNOC) is organizing a weeklong Olympic Solidarity Sports Administration Course for national sports associations.
The course, expected to run until December 16, kicked-off yesterday at the GNOC Resource Centre in Bakau.
The course is intended to help members of the sporting associations to acquire adequate skills and knowledge in sports management.
Speaking to participants at the official opening ceremony of the course, Alhajie Momodou Dibba, president of the GNOC, who inspired the participants to work in the best interest of their associations, described the course as "very timely".
"I think I may recall on 12 February 2010 when I took office; we have assisted associations of over D1 million in terms of courses, support to associations among others, which has never happened before, Dibba told the participants.
"And in 2012, we are going to ensure that all the active associations are well equipped to participate in all the international activities taking place and there are programmes lining up, like the regional and continental championships in 2013, youth games in 2014, other games in Saint Lucia in 2015, and 2016 is Rio in Brasil, whose coordinator is Gambia's IOC member Ms Beatrice Allen.
"It is important for you to manage our resources because at the end of the programme we will be accountable for the expenditure."
Dibba further called on all associations to call regular meetings before going onto challenge them to be very transparent as well as to get all their members involved in meetings about any development taking place.
"The whole idea for the Olympic solidarity's support to us is for us to in turn support the sporting associations, but again it is important to manage your resources for the good of our sports, said Dibba, who was thankful to his entire GNOC executive and the course directors he described the best in The Gambia.
"It is important as we are getting closer to 2012 to send your programme plans to the GNOC to ensure  that you have a budget and programme plans for the whole year so that it can be included in the budget and not to sit until the last minute," he added.
One of the directors of the course, Ebou Joof, former director of Sports at the Youth and Sports Ministry, said that significant developments have taken place in sports in the country over the years and is of the belief that the training is a motivating factor in trying to help the participants to move towards the right direction.
"It is very essential for us to have a background knowledge of what the Olympia is all about hence we have our parent body in GNOC, which belongs to a bigger body like the IOC, said Joof, who also expressed the need for sporting associations to have effective meetings so that they can be in a better position to help their associations.
Read Other Articles In Article (Archive)