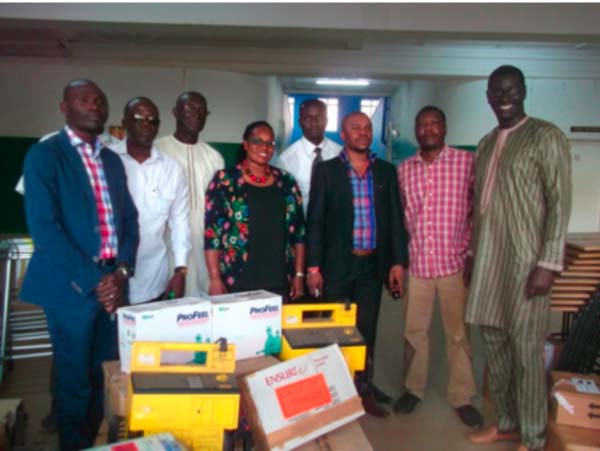 Medical equipment worth about $100, 000 is expected to be formally handed over to the management of the Edward Francis Small Teaching Hospital today Friday 6 March 2015, according to sources.
The gesture came from the Fajara Rotary Club with the support of their sister Rotary Club of Lytham in the United Kingdom, through its President Robert Dunn.
A 40-foot container with medical equipment including hospital beds, x-ray tables, x-ray display, knitted teddy bears, surgical gloves, bandages, mix medical items, adult stacking chairs, Zimmer frames, de-fib machines, ripple beds and pumps among others, was delivered to the hospital on Wednesday by the Fajara Rotary Club.
In an interview with the Fajara Rotary Club president, Adam Wadda-Jammeh, she said they were able to secure the equipment from their sister club in the UK.
This was after they had asked the hospital management about their urgent needs, and sent a request list for assistance, she added.
She described their relation with the hospital as cordial, adding that they are one of the major supporters of the hospital.
Mrs Jammeh announced that they are also building a shelter and washing rooms at the hospital for patients' escorts, which was inspired by their sister rotary club which visited The Gambia recently.
"We are also receiving help from our sister partners which we bring to the hospital. EFSTH is our major hospital, we take care of our own and we take ownership of the hospital as Gambians."
Rotary International is mainly focused on health, education, gardening, and sanitation among others as their priorities, she went on.
EFSTH public relations officer Modou Lamin Jammeh said the Rotary Club has been working in partnership with the hospital for the past years, through which they have benefited by receiving medical items from the club as their contribution towards national development.
He assured the donor that the medical equipment will be used properly for the benefit of the patients.
Rotary Club of Fajara public relations officer Madior Diop said Rotary Club is an international charitable organization which has 1,200,000 members globally, with the objective of sharing with the needy by giving back to the community.
The institution has two clubs in the country, Banjul and Fajara club, he added.
The ongoing construction of the shelter for the hospital would soon be completed and handed over to the hospital management, according to Diop.
Read Other Articles In Article (Archive)