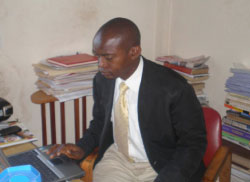 With entries from four different continents, the competition for Ethicontest 2011 was as tough as ever. Talented journalists from Macedonia to Togo and India entered essays answering the question "What are the ethical pitfalls of news photography from conflict or disaster zones, and how should a journalist choose what to publish?"
The contest was judged by Geoffrey Nyarota, award-winning journalist and editor of The Zimbabwe Times.
"We here at CIME are delighted to announce that Mr. Nyarota has made his final selection, and the winner of Ethicontest 2011 is Joseph Fomolu from Gambia," said the panel of judges.
According to Nyarota, when judging the contest, he was "looking for essays that revealed a thorough understanding on the part of the writer of issues of ethics in general, especially as pertaining to photojournalism."
"I wanted a well-researched and well-articulated piece of writing" that offered "well- presented and convincing arguments," Nyarota added.
Fomolu's essay impressed Nyarota, as it effectively discussed the power of news photography and explored the difference between the public's right to see and the public's want to see graphic images.
According to Nyarota, Fomolu's essay "does a good job of propounding the ethical pitfalls of news photography from the world's conflict or disaster zones, while proposing how a journalist should address the perennial ethical challenge of choosing what or what not to publish."
Upon hearing about his win, Fomolu said he "felt humbled and honoured to win a global contest of this nature."
Fomolu works as a principal of a journalism and mass communication school in The Gambia. He said he plans to encourage his students to participate in the CIME Ethicontest in the future.
Budding journalists need to be taught how to behave more ethically, Fomolu said, adding that he believes the biggest challenge for journalists in The Gambia is the reliance on extremely "brief journalism training" rather than a proper education in how to overcome that pitfalls of unethical journalism.
"CIME would like to congratulate Mr Fomulu and all of our other participants on the extremely high standard of essay submissions we received for Ethicontest 2011," Nyarota said.
"In recognition of the tremendous talent of the entrants, we would like to share some notable quotes from a few of the other finalists' essays:"
"Editors ought to adopt the Golden Rule. Think about how you would feel if the photograph of a headless torso with clothing you recognize as belonging to a murdered family member was carried above the fold in the New York Times, while American or light-skinned victims' remains are cropped or blurred? All journalists and editors have an obligation to treat all human beings with the same ethical values and policies." ~ Rhonda Roland Shearer, U.S.A., and Malik Ayub Sumbal, Pakistan
"In the time when the Kosovo War was happening during 1998 and 1999, it was spoken in every media about the things that were going on, but no one was really believing it and doing something for those people that were killed every day. The big change happened when in one of the international newspapers published photos from the massacre of Recak. In that moment the international states came to the conclusion that there is needed intervention, and exactly after those pictures, NATO was bombarding Serbia's forces, trying to protect Kosovo's people. That speaks for the big role of one photo." ~ Elmedina Shafi, Macedonia.
"Photographs and pictures should expose so many ideas, throw more light on a story and even go a long way to evoke emotions by the audience or observer. For this reason, a photograph should be real and exact." ~ Ezeigbolvan Chizurum, Nigeria.
"In times of war and conflicts, journalists work under extreme conditions and to disregard the human factor, the ethical conflict that would arise in such situations, is to be arrogant." ~ Rebecca Bengtsson, Sweden.
"It is possible for photographers to realize that it is not the cameras and camcorders that operate them, but they operate the cameras and camcorders. If photographers can take shots of these indecent pictures, they also have the control over shots of such horrific actions." ~ Joseph M.S.V. Fomolu, The Gambia.
Runner-ups of the 2011 CIME Ethicontest were Rebecca Bengsston from Sweden, Elmedina Shafi from Macedonia and Rhonda Roland Shearer (USA) and Malik Ayub Sumba (Pakistan) with a joint essay.
Read Other Articles In Article (Archive)