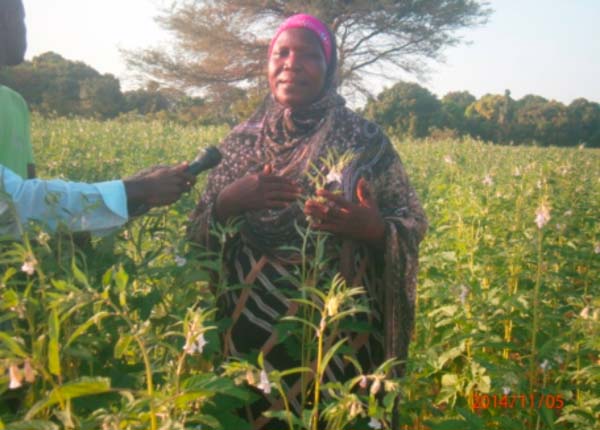 ActionAid International-The Gambia is currently visiting various smallholders' farms in the provinces aimed at inspecting the improvement of crops in the various fields.
This was followed by AAITG's conducting a series of training sessions on climate-resilient sustainable farming developments and procurement of seeds.
The training exercise was for over a hundred smallholder farmers, who were exposed to the concept and principle, as well as the strategies of both sustainable agriculture and climate-resilient sustainable agriculture (CRSA), which also included soil fertility enhancement.
The farmers were also aided with a variety of seeds to facilitate the practice at household-level such as early maturing crop varieties that are capable of thriving well with a short and erratic rainy season as witnessed in recent years.
These include new cropping systems, such as mixed cropping and agroforestry in which trees are inter-planted in crop fields.
The four-day activities included visiting some of the CRSAs under implementation and the three LRPs and beyond the Upper River Region.
AAITG seeks to promote sustainable agriculture and improved natural resources management to satisfy food self-sufficiency, and enhance environmental quality and the natural resource base upon which the agricultural economy depends.
In its quest to make the most efficient use of non-renewable resources, ActionAid is set to have considered sustainable agriculture as an approach derived from the recognition of people's right to food.
Speaking with reporters during the first field-visit, Kumba Sanyang-Darboe, a sesame farmer at Tuba Kolong village in the North Bank Region, said she benefited from ActionAid seed procurement and training activities.
She thanked AAITG for the gesture and for improving her knowledge on sustainable agricultural development.
"ActionAid has helped me a lot in the improvement and management of my farm. I wish to transfer the knowledge gained to my fellow women farmers," she said.
She urged her fellow farmers, especially women, to work for an improved sustainable change in their production, as well as change their attitude positively towards farming.
She urged ActionAid to help purchase some of the produce to encourage other women farmers.
The site visits end on Saturday in the Central River Region.
Read Other Articles In Article (Archive)