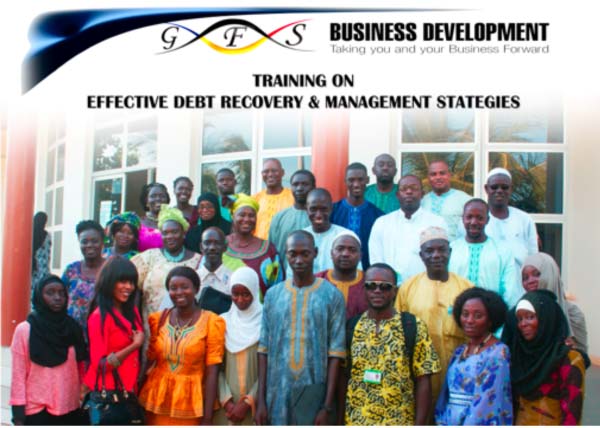 Staff and senior officials of various companies in the country have undergone rigorous training on debt recovery and management strategies held by Gheran Financial Solutions (GFS), at NaNA in Kanifing Institutional Layout.
GFS is a public relations-based training and consultancy firm which aims to help businesses to promote their products and services in procurement and designing products and new brand images for companies.
"The training on effective debt recovery and management provided our trainees with knowledge and core understanding of international and local credit management issues," said GFS managing consultant Gheran Senghore, in an exclusive interview with The Point at the training on effective debt recovery and management strategies.
"We target institutions that have large volume of debt collections; this covers almost all institutions that are involved in day-to-day handling of large debts."
Mr Senghore said that after the training, trainees would be well equipped with invaluable knowledge on debt recovery and management strategies.
"They will have ideas on issues on how they can go about recovering debt owed to the entities and will negotiate with their customers on process for debt on the legalities and the right of creditors and debtors," the trained economist said.
He added: "Gambia has to realize that debt collection is a huge problem and the mechanism on how to address this issue is a huge constraint. Consultancy and training firms face a lot of challenges in The Gambia. Institutions and government departments don't have a training culture and enough financial commitment to development of their human resources. The Gambia has to harness its own intellectual resources and value their own training institutions."
Mr Senghore said further that when it comes to local training, Gambian companies prefer sending their participants abroad, when the cost of sending two people abroad would amount to training 30 people locally.
"And in most cases the training which we offer here is of more quality and substance than foreign training abroad," the GFS consultant said.
He added:"I am calling on institutions to embrace the culture of developing their own human resources and using the knowledge acquired to impact positive changes in their respective institutions to contribute considerably to debt recovery in their institutions.
"Specialization ensures productivity and we are planning to conduct two other trainings in the UK and USA."
Mr Senghore also said they have a new brand of computing system that is specific to saving energy.
"The new computers we introduce to the market use a maximum of 4watts electricity; basically a touch will consume electricity than these computers," he added. 
Read Other Articles In Article (Archive)