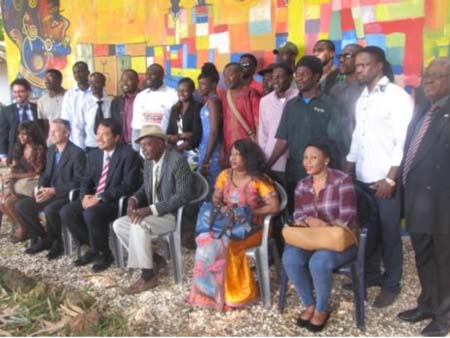 Twenty Gambian musicians recently concluded a two-day intensive training on human rights and democracy, promoting social justice through music.
Held at the Alliance Franco-Gambiene and organised by Mandingmorry Foundation for Performing Arts (MANFOPA), the training was funded by the US Embassy in Banjul through its Democracy and Human Rights Fund (DHRF).
Speaking at the training, the executive director of the MANFOPA, Ibrahim Ceesay, said the training was held to build the capacity of musicians for them to serve as advocates of human rights and democracy.
According to him, the foundation has also produced a film entitled the hand of faith, which was sponsored by the US Embassy too.
Ceesay disclosed that last year they established a music school in The Gambia for the first time in the history of the country and were honored to train musicians on human rights.
US Charge d'Affairs Richard T. Yoneoka gave the opening remarks on behalf of the U.S. Embassy on the training anchored on the project called "Using Performing Arts as a Tool for Democracy and Human Rights".
The move, according to him, was aimed at equipping musicians with the requisite knowledge and understanding of democratic and human rights values.
Mr Yoneoka told the participants that the grant will empower musicians and professionals in the performing arts sector and to raise people's awareness of social issues, democracy, and human rights.
According to him, using other mechanisms of communication in a form of entertainment creates significant impact on the lives of people by informing and creating awareness about issues affecting them at all levels.
The president of the Musicians Union of The Gambia, Oliver Mboge, elucidated that the training will not only educate musicians on human rights and democracy but will also deal with issues affecting the lives and status of musicians in all areas of their lives.
Musicians work life and their professional concerns are increasingly global in nature, he said whilst applauding the creation of forums like the MANFOPA initiative.
Read Other Articles In Article (Archive)