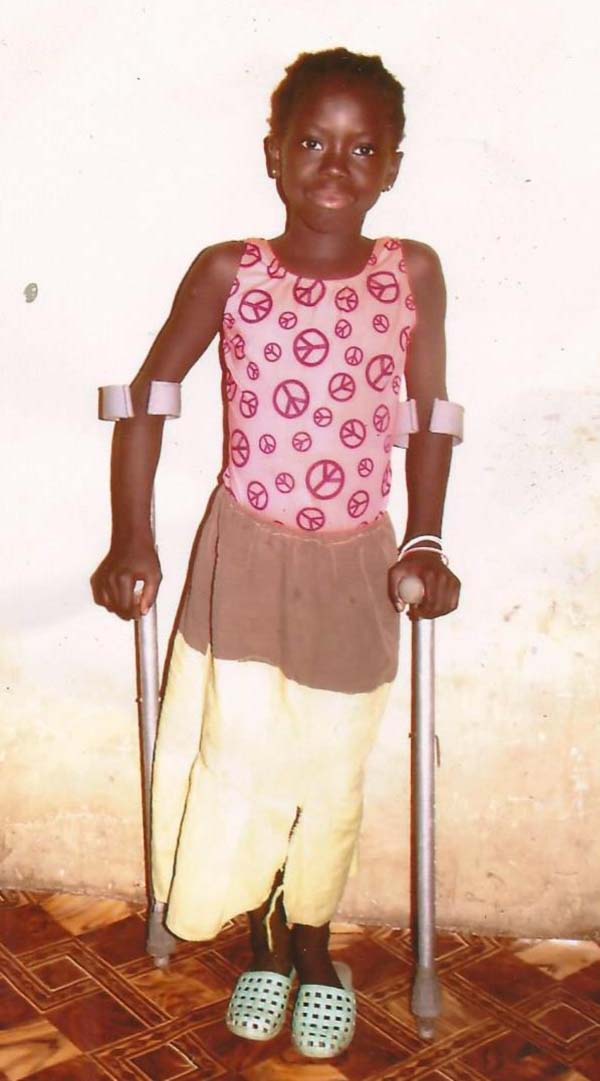 Mariama Sillah, a 9-year-old girl and resident of Busumbala, is seeking urgent assistance from the government, the private sector and philanthropists to undergo overseas treatment.
Due to her condition, a letter was written by doctors treating her at the Medical Research Council (MRC) requesting for funding or support to meet the cost of her treatment.
The letter reads: "She is suffering from a severe form of bone infection (called 'osteomyelitis') which has invaded her left hip, right forearm, right foot and several other bones in her body.
"The infection is caused by a bacterium called Klebsiella Pneumoniae which spread to her bones via her blood stream and would have been picked up accidentally when she was coughed on by somebody carrying the bacteria in their lungs.
"The infection has destroyed her left hip joint and badly damaged her right ulnar bone (in her forearm) and some of the small bones in her right foot."
Meanwhile, according to her doctors, to treat the infection she needs to take several months of antibiotics but unfortunately antibiotics alone will not cure the problem.
Curing the problem, they add, will need several operations to carefully remove the infected parts of her bones and rebuild her left hip.
"This is very complicated surgery and cannot be done either in The Gambia or Senegal," the letter added.
Fortunately for her, there is a specialist team of surgeons in Sierra Leone with the expertise to undertake the surgery.
"We have contacted them and they are prepared to treat Mariama if she can find a sponsor to fund the cost. The cost of treatment (including accommodation for escort) would be $7,000 plus the cost of return flight of $500 (approximately US$7,500 in total)," the document states.
"Without the treatment in Sierra Leone, Mariama's left leg will be permanently useless and she will never be able to walk again," it states, adding: "She may eventually need an amputation of the leg."
"Her right arm is also likely to become progressively disabled as the infected bone mat have died and will not grow at the same speed as the other bones in her arm. Furthermore she will need lifelong treatment for the infection which cannot be removed without the operation.
"Please do not hesitate to contact me (Edward Green MBBS MRCP DTM&H) on +220 4495442 or 4495446 at the MRC Hospital in Fajara if you need any further information."
Bangaly Sillah, a family member who accompanied Mariama Sillah to The Point Offices last Thursday, said they are looking forward to the support of the public in restoring the little girl's health.
He added that Mariama Sillah was attending Arabic school and would really like to continue her education but since last year she could not go to school.
Meanwhile, anyone willing to help Mariama Sillah can contact his father on the following numbers: +220 - 9223269, 6312449 or 7318388. 
Read Other Articles In Article (Archive)