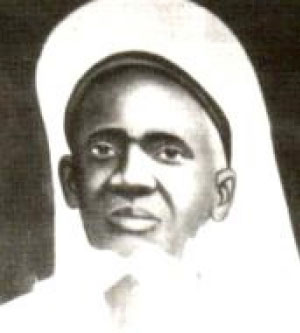 The 4th Annual Gamo of Ahlu Tivaoune, under the leadership of Serigne Mbye Sy Mansour, was held on 20 January 2012 in Banjul, The Gambia.
He represented the Khalifa General of Tiwawone, Serigne Mansour Sy (Borom Darragi), Sheikh Ahmad Tijan Sy Maktoum, and Serigne Abdoul Aziz Sy Al Amin, the spokesperson's son, Serigne Mawdo Malick Sy, Serigne Mam Ousman Sy and their family members.
Serigne Mbye Sy's trip to The Gambia is always to bring the students (talibehs) to be united and to know about the Sariha, be one family and know how to worship Allah and follow the teachings of Prophet Muhammed (PBUH¬).
The visiting Khalifa's delegation was made up of about four hundred from Senegal, Europe and America.
The Serigne and entourage was welcomed on arrival by Alhaji M. I. Jallow, President of the Federation of Ahlu Tiwawone, Vice President Alhagie Dodou Bah, secretary general Alhaji Mam Burama Sarr Koffo Annan, and Imam Alhaji Tafsir Gaye, Serigne of the Federation and representative of the Khalifa General De Tijan in The Gambia.
Serigne Mbye, in his speech, thanked the Chief Patron of the occasion, his Excellency Sheikh Professor Alhaji Dr Yahya A. J. J. Jammeh for the support he is giving to the advancement of the Islamic faith.
Serigne Mbye congratulated the President on his re-election and successful inauguration as Gambian leader and prayed for Allah to guide him so that he can fulfil all his promises and wishes for The Gambia.
He further thanked the Mayor of Banjul, Alhaji Samba Faal, for facilitating all that was needed to make the Mawlud to be successful on the directives of his Excellency the President, Sheikh. Professor Dr Alhaji Yahya A.J.J. Jammeh.
He also thanked all the religious leaders and the entire country for contributing in cash or kind to making the Mawlud a successful one.
The gathering also prayed for peace to prevail both in Senegal and The Gambia and the world at large.
Read Other Articles In Article (Archive)