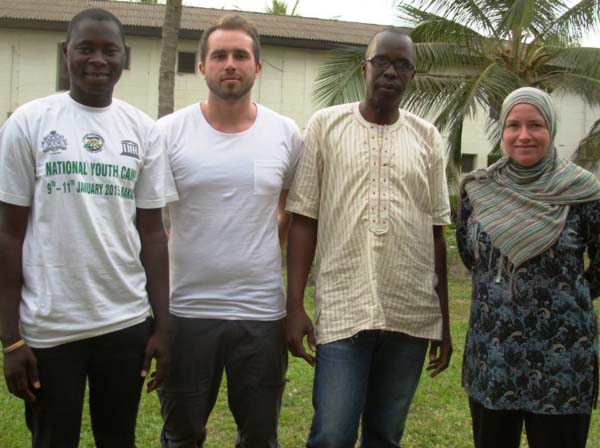 At least 16 members of 4H-Norway recently concluded a two-week study visit in The Gambia.
The purpose of the visit, according to officials, was to meet their Gambian counterparts, exchange ideas and share experiences, and learn from each other's culture as well.
The organization is rural-driven, and targets the rural youth and women, and the idea of the organization to support young people at Chamen Agricultural Training Centre.
Alieu Ceesay, director of programme, Head Heart Hands and Health (4H-The Gambia), said his organization focuses more on agriculture and promoting rural development to discourage rural-urban migration.
The organization has been in existence for over 25 years, and has recorded a huge success in promoting agriculture among rural youths through rural projects supported by 4H-Norway, he said.
All the activities of the 4H-The Gambia aim at promoting agriculture, preventing rural-urban drift and enterprise development, he added.
"We are doing a lot in trying to reduce rural-urban migration in The Gambia, by introducing activities for the rural youths that they can engage in," he said, adding that they have revolving funds that they give to the young people to start up small businesses or enterprises.
He added: "We believe that with that it can contribute to the reduction of rural-urban migration. We also do some sensitization within the communities on the effects of migration to discourage youths."
According to Ceesay, the movement of youths from the rural to urban areas is a major problem in The Gambia, but they have seen some achievements on the side of 4H.
He said their targeted group of youths are their active members, and they try to keep them in the villages.
"We have some agricultural projects for them, such as functioning vegetable gardens in Daru, solar cell panels and more than 10 cattle for the youths in Kerr Ngorr that the members benefit from during rainy season," he went on.
This is preventing many young people moving from the rural areas, because they are given the opportunity to raise funds and increase their earnings, he continued, adding that they build schools and many other programmes in rural Gambia to discourage migration.
However, he said, 4H-The Gambia has received funding from their counterpart in Norway on Ebola sensitization in rural Gambia.
Marie Stenstadvold, team leader and contact person for the cooperation between The Gambia and Norway, said their cooperation with 4H-The Gambia is over 27 years old.
Their cooperation is purely working to develop the Gambian youths and the organization in The Gambia and Norway, she said.
"We trained youths to be responsible, creative and make an income for themselves and their communities, through various activities," she continued.
In Norway, she added, they did the same with many activities for the youths who learn about agriculture, entrepreneurship; and every second year, visitors from Norway come to The Gambia on a study tour.
She said since they came they visited many places including their sister clubs in rural Gambia.
"Our visit is to learn from each other, exchange ideas, and we can also teach Gambians some of our work back in Norway, and also learn how Gambian live, and how they do their things."
In short, it is to understand each other's culture and way of life and problems and developments in each organization, she added.
4H Gambia focuses more on income-generating activities, while in Norway they do not focus more on that, she further stated.
In 4H Gambia, the community is very much involved, whereas in Norway members are not so connected with the community.
Here it is very interesting to see the 4H club fund a school, a mosque or other projects that are necessary in the villages, she noted.
Musa Chaw, an active member of 4H-The Gambia, described the organization is a very important organization that has developed and change the lives of many young people in rural Gambia.
"When I was going to school, I was thinking that after my education I will go to Kombo and look for a job or do another thing; but after been a member of 4-H I have been engaged in lot of youth activities," he said.
He added: "I benefitted from a lot of training through 4-H both national and international. This helped me to become a responsible youth, who is now contributing his quota in the development of family, community, region and the country as a whole."
Read Other Articles In Article (Archive)