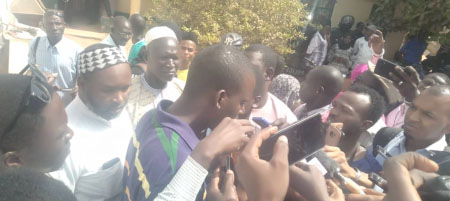 Four Gambian journalists who were arrested by the police on Sunday during the Operation Three Years Jotna's protest have been released on police bail. Over hundred more protesters were equally released on bail, while dozens were being processed for their initial court trial, government's spokesperson Ebrima G. Sankareh confirmed to The Point.

The arrested journalists: Pa Modou Bojang, the manager of Home Digital FM, Gibbi Jallow the manager of King FM, Ebrima Jallow and Madiou Jallow both staff of King FM Radio Station.
They have been charged with incitement of violence and are urged to report to the police today.
Gibbi Jallow who spoke to journalists immediately after his release said: "We were not maltreated during our detention. However, we were not comfortable in one room due to the number of people that were in the room."
The secretary general of GPU, Saikou Jammeh, said more than 12 journalists have been assaulted since 2017 and the police failed to carry out investigations, saying "we will engage the police and politicians regarding the role of journalists.
"Now, what we will do is that anyone who assaults journalists, if the police fail to investigate and prosecute the perpetrators, the Union will take such matters to court."
The Gambia Press Union (GPU) in a press release described the closure of the two radio stations as arbitrary and unlawful. It also condemned the attack of journalist Sankulleh Gibril Janko by protesters.
"Equally, the proclamation contained in yesterday's press release which appears to warn journalists against presenting divergent views is as dangerous as it is unlawful. It has no legitimate basis, and therefore, we call on the media to disregard it and present as diverse opinions as possible on any issue of legitimate public interest and the issue of the tenure of the president is one such issue. We will challenge any attempt by the government to pursue further with the implementation of this proclamation."
"The Information and Communication Act (s36) gives powers to only the Minister of Information to suspend or revoke a broadcasting licence. The security has no powers to shut down a radio station. Through our consultations with the minister, we have confirmed that no such order came from the office of the minister, Ebrima Sillah. Moreover, the laid-down conditions for doing so have not been met," Mr. Jammeh said on Monday.
Read Other Articles In Article (Archive)