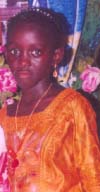 Sally Bah, a 15-year-old student of Tahir Senior Secondary School in the Lower River Region is in dire need of urgent overseas treatment.
According to Sally's medical report issued by the Royal Victoria Teaching Hospital (RVTH) on 13 April 2010, the girl developed back and chest deformity since last year.
The medical report also states that Sally, who now lives in Bundung, often complains of pains and difficulty in breathing. 
Her ex-ray report states that the 15-year-old is suffering from "severe chest deformity of the dorsal and lumbar spine".
The dorsal lumbar spine shows a kiphoscoliosis of more than 50 degrees with some chest deformity, says the report signed by three medical doctors, namely Dr Hani Mahroos Mehannis, Dr Humberto Villalobes and Dr Abdou K. Shallah.
Potential sponsors can reach Sally Bah through her father's cell phone on:  00220 9957044 or 6957044.     
Read Other Articles In Article (Archive)