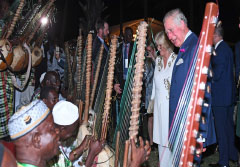 The 2021 edition of UK-Gambian traditional fashion exhibition/award night would have been called the fourth edition of the event, has been dedicated to the NHS.
The event which should have take place sinc due to covid-19.
Bringing this extra ordinary event back simply means we are coming back to the reality that we've known.
The event will be a heartfelt appreciation for the heroic commitment the entire frontline workers put forward during the pandemic.
Through the two-night event, there will be exclusive awards and appreciation speech. This will be our very own token of 'Thank You' to the NHS and other frontline workers who put their lives on line during the pandemic.
Read Other Articles In Arts and Culture