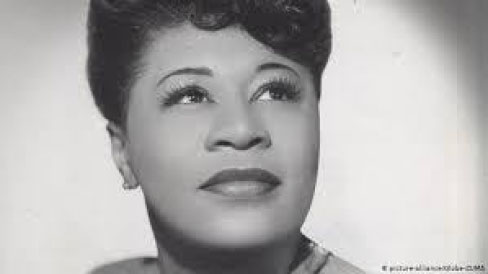 As we continue our focus on Women in Jazz, it will be difficult to proceed without giving prominence to a lady who has been at the forefront of this whole journey and as someone who has had a pioneering impact on the genre called Jazz. She is known as THE FIRST LADY OF JAZZ, THE FIRST LADY OF SONG and THE QUEEN OF JAZZ.
The history of jazz will not be complete without acknowledging the contribution of many women who played and continue to play prominent roles in shaping the music. We recently celebrated the life and contribution of one of those ladies,-Nina Simone. In the same vein, we wish to continue that celebration with a focus on one of the most iconic ladies of jazz, - Ella Fitzgerald commonly known as the 'first lady of song'.
She was born Ella Jane Fitzgerald in Newport News, Virginia on April 25th 1917, to William Fitzgerald and Temperance "Tempie" Henry, grew up in Yonkers, N.Y. and later settled in Beverly Hills; CA. Ella was noted for her "purity of tone, impeccable diction and a 'horn like' improvisational ability especially in her scat singing". While singing with Dizzy Gillespie during one of many sessions, she once remarked that she just tried to do with her voice what she heard the horns doing. As a youngster, she wanted to be a dancer, but also enjoyed listening to jazz recordings by Louis Armstrong, Bing Cosby and the Boswell Sisters. She was fascinated by the voice of the lead singer of the Boswell Sisters – Connie Boswell. Ella was introduced to the music of Connie Boswell by her mother, and she confessed that she tried very hard to sound like Connie.
She made her singing debut at the Apollo Theatre in Harlem, New York on November 17th1934. It was at an event billed as 'Amateur Night' which was staged weekly to give young artists a chance to compete and showcase their various talents. Ella wanted to go on stage and dance, but was intimidated by a local dance duo called the Edward Sisters, so she decided to sing. She sang two songs of Connie Boswell and won the first prize of twenty-five dollars.
In 1935 she met drummer and bandleader Chick Webb and was given a chance to sing with Webb's orchestra. She began singing regularly with Webb's band at the Savoy ballroom in Harlem and recorded several hit songs with them during the next few years. In June 1939, Webb died and his band was renamed 'Ella Fitzgerald and her Famous Orchestra'. She became the bandleader and recorded over one hundred songs with them. In 1942 she left the band and embarked on a solo career with Decca Records. Her manager at Decca was a guy called Milt Gabler and it was during this time that she met jazz impresario Norman Granz. Granz would later become her manager and she appeared regularly at the Philharmonic in New York City. However, the later part of the forties was a period of decline for touring bands as major changes in jazz were unfolding.
The advent of bebop led to new developments in Ella's vocal style and it was in this period that she started singing in scat. In 1945, she made her first scat recording and the New York Times described her as the most influential jazz vocalist at that time. Her technique was so unique and dazzling with inventiveness that for a moment, she stole the spotlight of scat singing from the master himself – Louis Armstrong. She would later try to diversify and return back to singing with lyrics. In 1950, she did a series of duets with Ellis Larkins and recorded an album called – 'Ella sings Gershwin'. Ella continued playing with Norman Granz and when she finally left Decca Records, Granz created Verve Records around her and recorded some of her best music starting with the – 'Cole Porter songbook' and later the – 'Great American songbook'. She described this period as a turning point in her life and observed that she had gotten to a point where all she was singing was bebop, but now realizing that there was more to music than bebop.
Still working with Norman Granz, Ella went on to play and record with the great bandleader Duke Ellington and together, they released another songbook entitled – 'Ella Fitzgerald sings the Duke Ellington Songbook'. The songbook series became her most acclaimed and commercially successful work and was considered by many as her "most significant offering to American culture". In 1972 and 1983, Ella recorded albums exclusively devoted to the songs of Porter and Gershwin and would later record another album devoted to a single composer Antonio Carlos Jobim. In the interim, while recording the songbooks, she toured extensively in the United States and internationally, and in the mid-fifties, she became the first African American to perform at the exclusive night spot – Mocambo. It should be noted however, that this was made possible after Marilyn Monroe lobbied the owner of the club for a booking.
While with Verve records, she also recorded several live albums including; Ella at the Opera House, Ella in Rome, Twelve Nights in Hollywood and Ella in Berlin, all of which were highly regarded by critics, and she won a gammy award with the song 'Mack the Knife'. It is interesting to note that while singing this song, Ella forgot the lyrics, but was able to improvise brilliantly to compensate. She had an extraordinary vocal range and her most amazing asset was the very sound of her voice. Her harmonic sensibility was special and she was endlessly inventive.
In 1963, Verve Records was sold to MGM and the new owners failed to renew her contract, so in the next few years she flitted with Atlantic Records, Capitol Records and reprise records. In 1972, Granz started Pablo records and again Ella was busy. She recorded twenty albums for this label, with the album – Ella in London, recorded live in 1974 featuring pianist Tommy Flanagan, Joe Pass on guitar, Keter Betts on bass and Bobby Durham on drums. This was considered one of her best album ever.
As the years passed, Ella was plagued by health problems which limited her work. She made her last recording in 1991 and her last public performance in 1993. In 1996 she died quietly from diabetes complications in Beverly Hills, California.
Read Other Articles In Arts and Culture